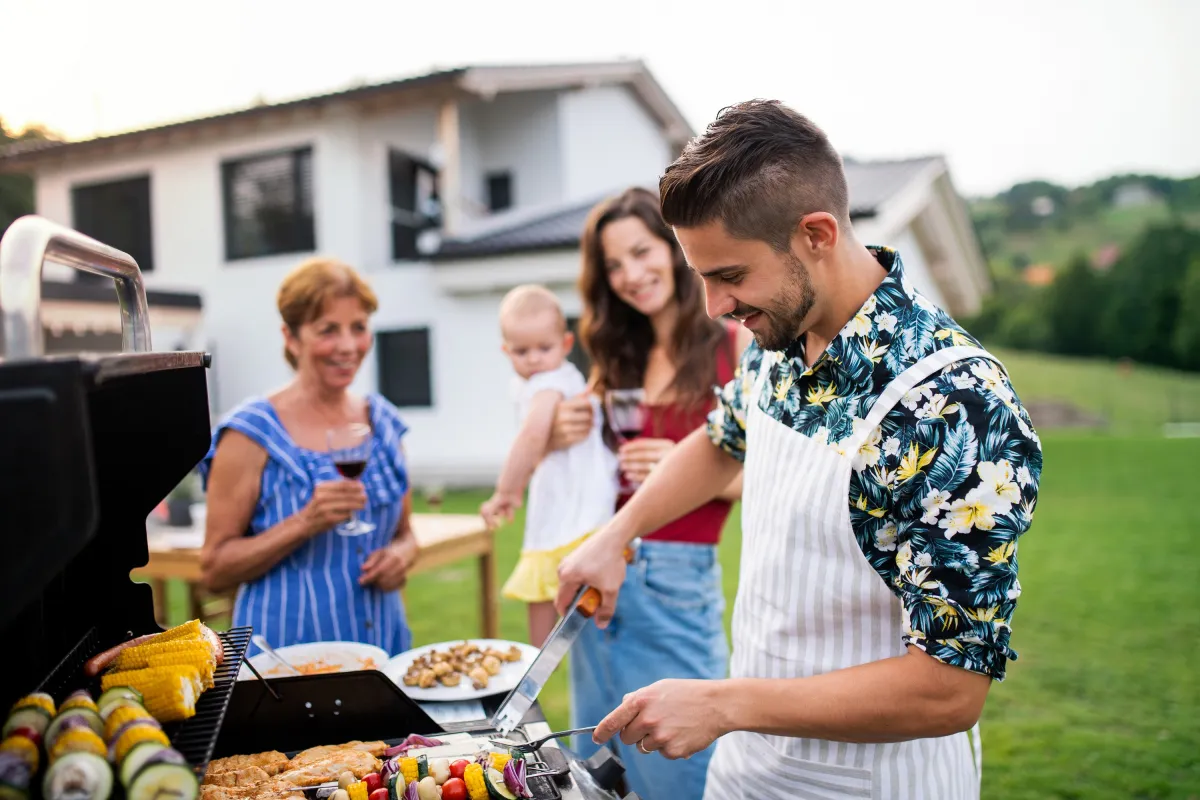 14.08.2022 | Editorial office
How to choose a garden grill?
Enjoy roasting steaks, cooking stews, or fondue parties on the weekend. The result of grilling will depend on your imagination, skill and secret recipe. Discover your grill for fun and enjoyment. Surprise your guests.
choose the location - built-in or freestanding, on legs, wheels or on a table
consider size and accessories
choose the heating method

classic - for charcoal or wood, destined for grilling
gas - table, garden on wheels, portable tourist or camping
electric - easy to operate and maintain

create a place for storage
Grilling is a game thanks to a number of tools and accessories. Mix in a good mood, spices, a drink and your own grilling mystery.
---
---
Built-in fixed garden fireplaces and grills Choose from a large selection of solid garden fireplaces and grills. They are timeless, they do not lose their charm. Built-in fireplaces and grills are suitable for covered terraces and verandas and for lovers of the smell of burning wood and coal. You need to always have them in stock. For safe storage of wood and coal in the garden, do not forget:
classic crate and storage boxes
wooden or sheet metal shelter to the wall, to the fence, to the garden house
stylish metal, wicker, jute or felt hearth basket
single or multi-wheel transport cart
wooden or tin design storage for wood in the function of a table
a handy shelf, a wooden cabinet
garden storage box
garden House
a built-in fireplace is a classic design accessory, a solid garden fireplace and a grill usually have a stable construction made of metal, concrete, brick, or stone, the fireplace is immediately ready for cooking, roasting, grilling, and smoking, you can use the solid fireplace as additional heating to extend the season on the terrace or in Gazebo fireplaces and grills radiate pleasant radiant heat with the smell of smoke
a built-in fireplace and grill is more demanding on space, a fixed fireplace cannot be moved, it is necessary to prepare and properly store wood and coal for grilling, a higher purchase price is typical
Grills
Round ceramic grills Modern round ceramic grills are an excellent choice for grilling, baking, and cooking with charcoal. The closed ceramic grill maintains a high temperature and evenly distributes it inside. It consumes about a third to a half less coal than a regular grill. It can be heated to a temperature of 350-420 °C. It is self-cleaning - fat and food residues are burned inside.
The ceramic round grill is a stylish addition to the garden with a touch of luxury. The round grill enables roasting, grilling, and cooking in one. It is characterized by easy maintenance and cleaning. It maintains the heat of ready meals for a long time.
round grill needs to be stored after the season higher set-up price
Gas grills Depending on the size and equipment, gas grills can completely replace the kitchen. They allow convenient cooking, grilling, roasting, preparing fondue. The set temperature is easily maintained in the enclosed space with a rotary regulator. Prepare a sufficient supply of gas, and you have taken care of an almost endless barbecue party.
gas grills have an attractive design on wheels, they are easy to transport, suitable even for unpaved terrain, gas grills are typical of several surfaces for preparing food, they have grids and smooth and notched surfaces, closable gas grills have even heat distribution for quick and healthy grilling, they are equipped with bowls for dripping fat, they don't smoke, they don't create carcinogens, gas grills work without ash and smoke, easy setting of the desired temperature, rich accessories, various storage areas, easy maintenance, some parts can be washed in the dishwasher
the need to set aside and store after the season, the need to handle gas cartridges
Charcoal grills Grilling on a charcoal grill is the oldest and most widespread method of heat processing food on coal or briquettes.
Charcoal grilling is a time-tested classic. Various easily portable constructions made of alloy and metal are typical. Rich accessories - for example, grill nets, plates and other Teflon mats for healthy grilling. Folding sheet metal versions suitable for camping and hiking independent of gas and electricity.
they produce smoke and ash, longer preparation and setting of the fireplace more demanding to clean
Fondue sets Fondue sets are increasingly popular and modern. Dip pieces of bread in a special container in the cheese fondue in the middle of the table. Innovate and fry pieces of meat in oil and dip them in prepared sauces. Also prepare a sweet chocolate fondue with seasonal fruits.
foundue set is an exclusive party accessory rich accessories enable the preparation of non-traditional dishes and flavors foundy can also be used for vegetarians and vegans salty, sweet, warm, spicy dishes easy to clean, even in the dishwasher also available in an electric version with a thermostat small dimensions foundy set is also suitable for an ordinary table
the foundy container must be preheated to the required temperature on another stove, the foundy set requires a special heating gel to heat the foundy container during the party
Electric table grills Electric grills are similar to classic charcoal grills, but in addition to the grill, they are usually equipped with a flat grill plate.
without smoke and ash stone, alloy, smooth or grooved cooking surface non-stick surface treatment adjustable temperature thermostat with heating indication removable container for excess fat or crumbs easy to operate and maintain light and portable
electric table grills require permanent power from the mains
Electric raclette grills Spice up the celebration and prepare fish, seafood, vegetables, baked sandwiches, toast, or hamburgers on the electric grill.
small compact dimensions easy to place on the party table simple operation and maintenance healthy cooking with a minimum of oil ceramic coatings with a non-stick layer for easy maintenance and cleaning raclette pans for fun culinary experiences
electric grills require mains power
Iron hearths and iron fireplace tables with BBQ hearth Garden iron fire pits, roasting skewers, iron vintage fireplace tables with a BBQ fire pit are a modern alternative to built-in fireplaces. The vintage design will become a luxurious element of your garden. Multifunctional fireplaces with a hob allow you to grill, have fun and enjoy drinks with friends at the same time on one table surface.
low-maintenance higher temperature burns off the remains of fats and oils open hearths will delight you with warmth even after the end of the summer grilling season cast iron and stainless steel construction has a long service life
higher weight, more difficult to transport, higher purchase price
Kettles and basins Enjoy the classics and cook goulash, fazuľovica, or halászlé in the kettle according to your own imagination. Surprise your guests with a unique taste and aroma. Enjoy a drink in the company of a blazing fire and a stove.
classic cooking for every enthusiast affordable easy cleaning simple storage easily portable suitable for preparing liquid soup dishes
the need for a hearth and a supply of wood produce smoke and ash
Cauldrons