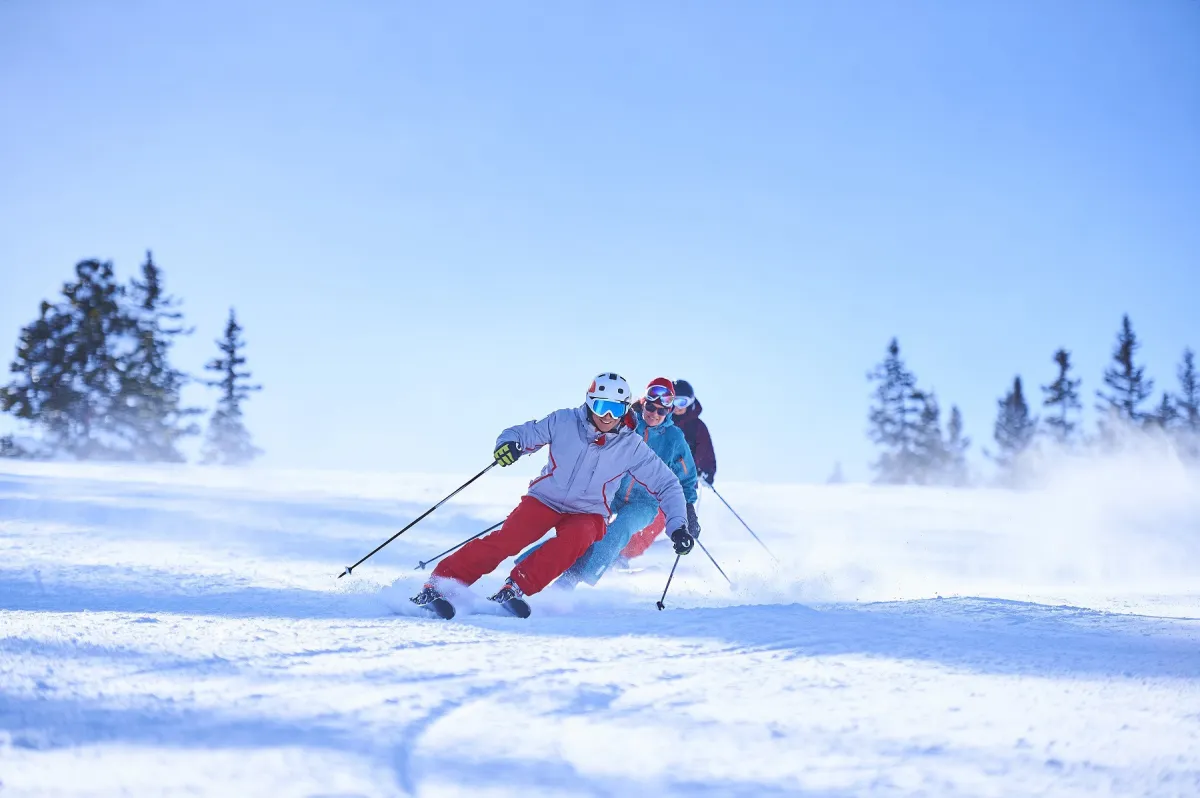 27.11.2022 | Editorial office
Relax with winter sports
Mountainous landscapes with many winter resorts offer an ideal environment for relaxation and winter sports. Consider when preparing for sports activities in winter
physical readiness and fitness
experience and orientation in the winter environment
how often you want to engage in the activity - once or regularly.
The most popular winter sports suitable for all age categories:
downhill skiing
cross-country skiing
snowboarding
sledding and bobsledding
Ice skating
hockey
Recently, it has gained great popularity in particular:
ski mountaineering
backcountry skiing
snowshoe trips
Crossing mountain ridges with beautiful views of the landscape are unforgettable experiences.
---
---
Downhill skiing Downhill skis are the most widespread choice of winter recreation. Prepared terrain, cable cars and lifts allow safe skiing.
Downhill skis are universal, suitable for both beginners and advanced skiers. Choose downhill skis for a groomed slope, all-mountain skis for undemanding, ungroomed terrain, or freeride skis for a challenging, ungroomed slope.
Choose the skis that suit your style. Basic rules will make your choice easier. The main criterion is the height and weight of the skier .
suitable for all age categories and for beginners, affordable equipment costs
downhill skiing depends on the equipment of the ski center and the number of lifts on the slope in the main season there are a large number of skiers
Heated clothes
Ski boots
Winter overalls
Winter jackets
Snowboarding Snowboarding is a winter sport especially for young, brave, adrenaline riders. Arm yourself with patience when training. Conquer open terrain even off the classic pistes.
An interesting alternative for the ride of your life is splitboarding . When going uphill, you can split the splitboard into two skis. Before riding, you fasten them together and turn the binding to the riding position.
This solution combines the advantages of snowshoes when climbing in difficult terrain, the possibility of skialing in alpine terrain, and the freedom of exciting snowboarding.
freedom, acrobatics, jumps, freeride in open terrain
shackled legs are more difficult to maneuver and master the correct technique
Winter hats
Snowboarding
Cross-country skiing Cross-country skiing is the healthiest tourist winter sport suitable for everyone. When running, all muscle groups are active. In the fresh air, convert fat reserves into worked muscles.
The basic style of cross-country skiing is classic technique. This technique is also suitable for recreational tourism in open terrain. It is characterized by forward bending, weight transfer and proper bounce. Skis with scales in the reflective part of the ski, which do not need to be waxed, are ideal.
Skating style requires a modified running track. It is more demanding in terms of fitness and good technique. The manufacturer's tables for each model make it easier to choose the right skis. The basis is height, weight and preferred style.
Backcountry cross-country skis have steel edges for easier movement in icy terrain. Compared to standard cross-country skis, they are wider. Backcountry skis, bindings and boots allow movement in open and ungroomed terrain in a similar way to recreational skiing. They can be equipped with climbing belts . When downhill, they have a firm heel grip for easier slalom in deeper snow.
Backcountry skiing is an increasingly popular alternative to skiing.
a stable rhythm of movement allows you to relieve stress and tension minimal risk of injury cross-country skiing is limited only by the lack of snow you are not bound to groomed tracks in winter resorts affordable ski equipment
Headlamps
Functional underwear
Ski alpinism Ski mountaineering is a lifestyle. It is an adventure sport that is a mixture of ski touring, alpine skiing and mountaineering.
In its recreational form, it involves high-altitude hiking to mountain saddles followed by skiing in unimproved terrain.
Ski alpinism requires good physical condition, experience with movement in alpine terrain and mountaineering, as well as excellent skiing skills.
This demanding winter sport requires special ski equipment with low weight and high strength.
you will be in places where ordinary skiers cannot reach, you are not limited by the operating hours of the winter resort, you will experience beautiful views and scenery
expensive sport for equipment requires specific skills and knowledge good physical condition is necessary you will spend most of your time climbing the hill
Snowshoes, sledges, skibobs Snowshoes allow interesting trips even in the dead of winter. You will no longer be surprised by a high pile of snow. Complete your winter tourist equipment . The advantage is that you can use them immediately even if you are not a skier. When walking on snowshoes, you burn many more calories than when walking.
A large number of variations and sizes exist. In deep snow and on trips with loads and backpacks.
Don't forget to take a sledge or ski bobs with you. You will ride down the snowy slope faster and more cheerfully.
they are easy to put on, take off, pack and put away suitable for alpine hiking in steep terrain they are cheaper than skialps and cross-country skis usable even in bad weather and at night
you can't slide down the hill like on skis, or backcountry skis are slower on the flat
LED headlights
Ice skating Did you like ice skating? Do you have a winter stadium or a natural ice surface available? Run out onto the ice. Get quality skates for the movement of all household members. Men's, women's or children's with adjustable growing shoe .
Are you a lover of ice skating all year round? Skates with a replaceable chassis for classic in-line or ice skating are designed for you.
High-quality ice skates stand out with an airy, comfortable shoe with a quick-lacing fastening and a firm grip on the ankle . Try driving a figure skater with well-sharpened stainless steel knives .
Become a member of the hockey team. Store your sports equipment in bags and backpacks . Carry your skating and hockey gear effortlessly.
Ice skates
Winter gloves