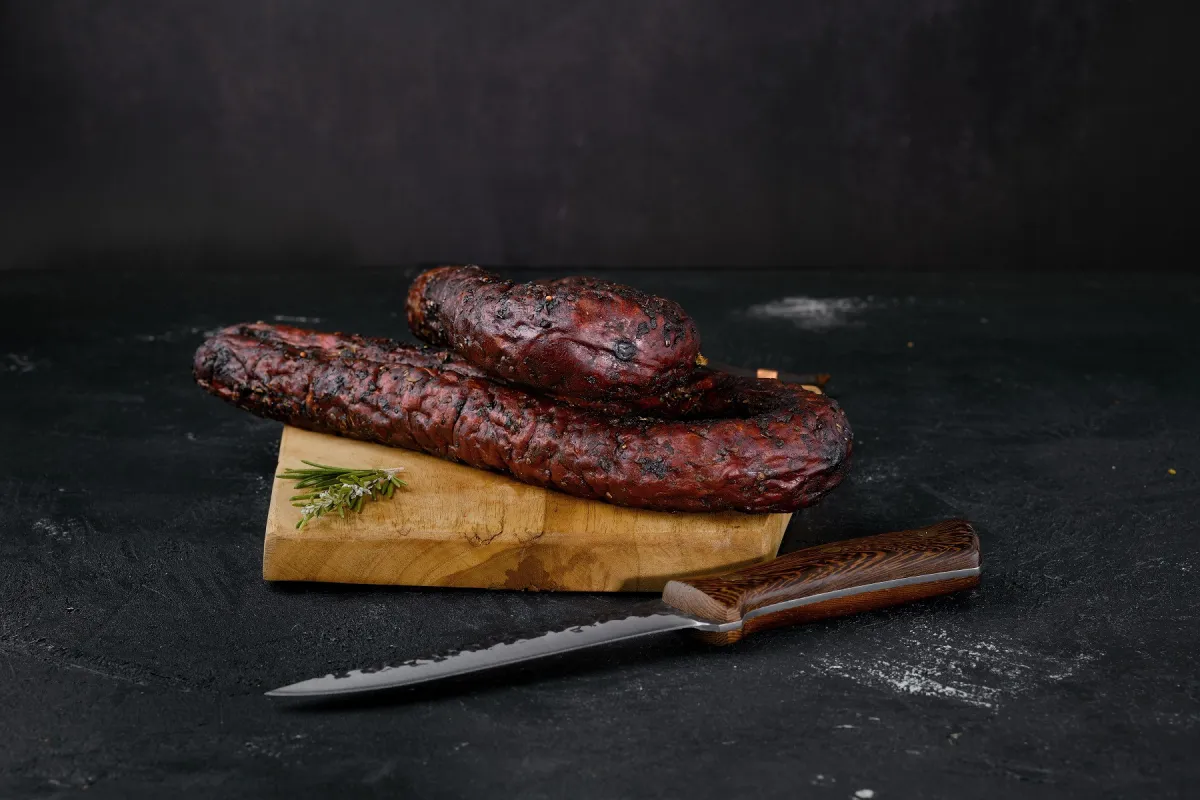 29.11.2022 | Editorial office
Homemade smokehouses for natural preservation and full taste of smoked meats
Along with drying, smoking is the oldest form of food preservation. It is a traditional part of the preparation of the Christmas and Easter holidays. Popular butchers and meat processing is an excellent opportunity for the whole family and friends to meet. Smoking results in a faster and more pronounced maturation of the raw material. The food acquires a specific aromatic smell and taste. Smoking is a natural flavoring without artificial e-flavors. The antibacterial combination of salt, temperature and smoke destroys bacteria and protects sausages from spoilage for a long time. You can smoke almost anything. Experiment, invent your own recipes. Surprise yourself and your friends.
---
---
How to choose a home smokehouse Every home smokehouse is suitable for smoking almost all kinds of raw materials. In addition to classic meat and meat products, try smoking fish, cheese, eggs, nuts, fruits and vegetables. It depends only on the accessories for the smoker, whether you hang the raw material on hooks, store it on a net, or place it on a draining shelf.
When choosing a smokehouse, consider what foods you plan to smoke, how often, and in what quantity.
Small compact smokehouses are usually also portable. Some are also suitable for taking with you to water, for example for smoking fish.
Multifunctional and multi-chamber smokehouses allow you to grill or smoke different types of raw materials without smelling each other.
An essential parameter for choosing a smokehouse is the style of smoking and the choice of heat and smoke source . The heat source can be charcoal, hardwood, gas, or an electric coil with a thermostat.
Wood pieces , wood chips, or sawdust from fruit trees with a strong aroma are an essential part of smoking. For slow smoking with cold smoke, you need cold smoke developers and generators .
Kitchen robots - reliable companions for cooking and baking
Basic smoking styles Equip yourself with smokehouses for warm and hot smoking, or for smoking with cold smoke. These two basic smoking styles also characterize the construction of the smokehouse itself. Smokehouses for warm and hot smoking must be equipped with a high-quality thermometer or thermostat for convenient control and long-term maintenance of the temperature in the range of 45 to 75°C for 8-12 hours. Hot smoke smoking is suitable for fatty meats and meat products. During hot smoking , the temperature is maintained from 80°C to 100°C for about 2 hours. Hot smoking is suitable for preparing fish and raw materials with a low fat content. The shorter shelf life of foods smoked with hot smoke requires faster consumption. Gentle, slow smoking with cold smoke lasts for several days at a temperature of up to 25°C. It is especially suitable for tender beef and chicken, fish and raw materials with a low fat content, cheese and vegetables. The advantage is a longer shelf life and the preservation of all nutrients and nutritional substances.
Electric home smokehouses Electric home smokehouses made of stainless steel will be a long-term companion on the way to get to know smoking. The high-quality set consists of an insulated construction of a chamber with a double wall, with an integrated thermometer, with an electric coil and a thermostat. A wide range of accessories allows hanging on hooks or storing raw materials on nets or shelves. The high thermal performance of the coil allows you to smoke all year round in any weather conditions. No more restrictions. The stainless material is a guarantee of faultlessness, easy maintenance and cleaning. Fill the bowl with wet sawdust from exotic or fruit trees. Set the thermostat to the desired temperature and switch on. After heating the chamber to the desired temperature, insert the raw materials. After that, it is enough to regularly change the sawdust according to the recipe and moisten it with a water sprayer. Humidity, temperature and aromatic smoke give food a mild, spicy taste and a long shelf life.
easy temperature setting and its automatic thermostat regulation simple operation and easy replacement of sawdust easy emptying of ashes easy cleaning and maintenance of the stainless steel smokehouse long service life rich internal equipment for smoking various raw materials year-round use
higher purchase price of a high-quality insulated assembly made of stainless steel
Gas home smokehouses Connect the double-walled insulated smokehouse to a propane-butane bottle in summer or winter. Light the fire with the piezo lighter, set the temperature and check the smoking process through the glass window of the door. Choose wet wood chips, wood chips, or sawdust. Try the smoker also as a water grill for meat and vegetables. Add a bowl with beer, wine, various spices or fruit juices. You will get more exotic flavors and aromas.
great heat output versatile use for smoking, grilling, cooking convenient smoking with easy temperature adjustment and control
handling of gas and fire higher purchase price
Homemade charcoal smokehouses Discover the advantages of stylish charcoal smokehouses in standard combination with a grill. The rustic appearance, the possibility of moving around the terrace or in the garden, predestined them for all parties and celebrations. Grill steaks, vegetables and prepare smoked cheeses, fish, eggs, ham or sausages. The rich menu will be a pleasant culinary surprise for guests. Become more of a star chef.
smoking, grilling, baking, cooking in one possibility to use wood chips, charcoal, briquettes, sawdust
higher purchase price of stylish and rustic smokehouses seasonal use for smoking
Smokehouses for slow smoking and drying Discover the benefits of slow smoking with cold smoke. Enhance the taste and aroma of lean meats and cheeses, vegetables and fruits. Don't limit yourself and use the possibility of drying vegetables, spices, or fruits. Insert pressed briquettes into the cold smoke generator reservoir. Prepare healthy aromatic delicacies with the aroma of different types of wood. Choose a perfectly insulated chamber with a glass door, the size of a smokehouse, manual or remote control with a mobile phone. You just have to choose.
preservation of all nutrients and nutritional substances, long shelf life of slowly smoked foods
higher purchase price of thermally insulated smokehouses, separate cold smoke generator, slow and lengthy smoking for more than 24 or 48 hours
Food dryers for quality processing of seasonal fruit
Garden smokehouses with a separate hearth Garden smokehouses are intended for larger households and for all enthusiasts of smoked delicacies. Do you need to process a large amount of meat and meat products at once after the slaughterhouse? Install a garden smokehouse with a separate fireplace for hot and cold smoking in your garden or on the terrace of your house. Get a stylish wooden smokehouse for your cottage. Use hardwood without bark in the combustion chamber.
large capacity for 15-30 kg of meat easier temperature control with flaps in the smokehouse chamber and in the external firebox
suitable for fixed installation, poorer insulating properties of a single-walled wooden chamber, more difficult to maintain temperature
Small compact smokehouses The small dimensions of the compact smokehouses allow them to be easily carried to the campsite, to nature or to the water. Choose a comfortable electric heat source with a thermostat, charcoal, sawdust, or wood chips. Prepare fish specialties right on the river bank. Food tastes best in nature.
compact dimensions and mobility, low purchase price, the possibility of smoking, grilling and cooking
suitable for preparing a smaller volume of food