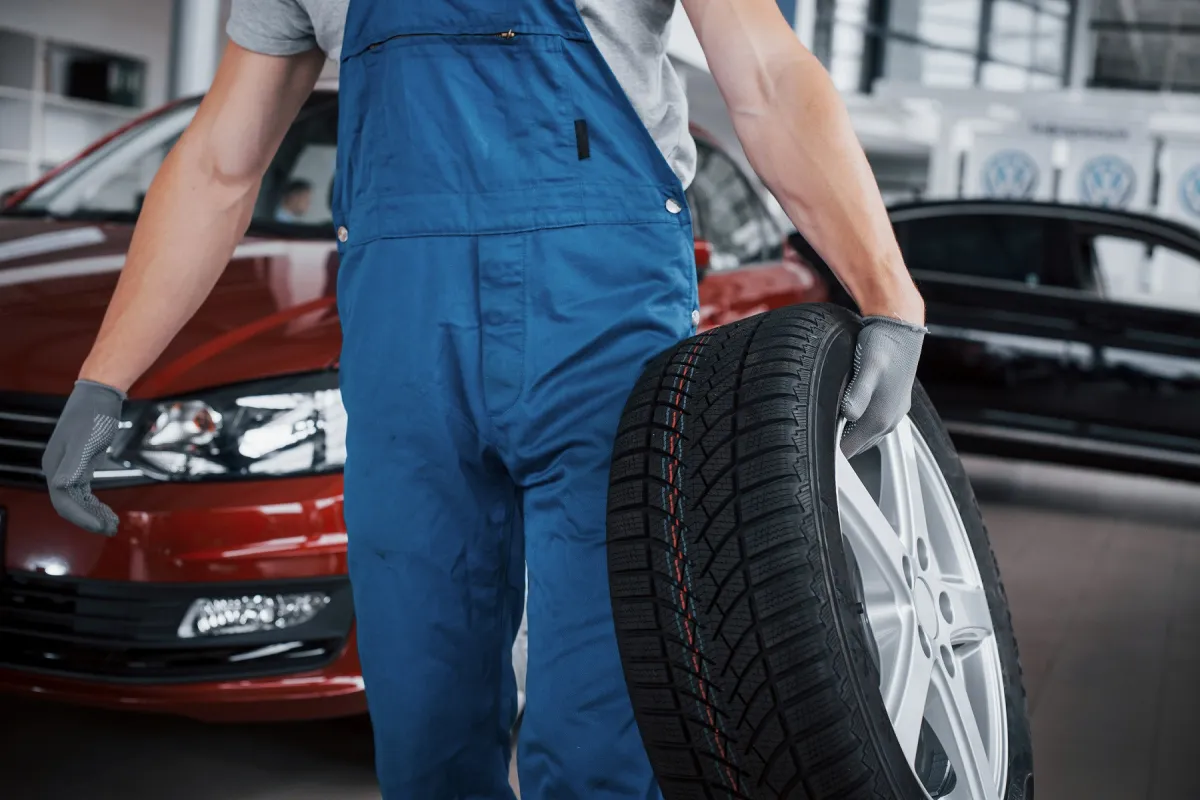 07.12.2022 | Editorial office
Winter tires for safe driving on cold roads
There is probably no longer any doubt about the necessity of using winter tires in the difficult climatic conditions of winter. Laws, traffic regulations and regulations also think about it. Driving on winter tires is often regulated by traffic signs on many road sections, especially in the Nordic countries, on mountain passes, or in the mountains.
Driving without winter tires is directly prohibited in the specified winter period of the year, or when the road is continuously covered with snow. It is generally recommended to change to winter tires if the ambient temperature drops below 7°C. The controllability, grip and braking distance of summer tires decreases significantly. Summer compounds are harder and slide more easily.
It is good to remember that winter tires are part of the same safety category as seat belts, airbags, brakes with ABS, child car seats and other winter equipment.
Changing shoes is a simple process, but it is necessary to think about it in advance and avoid long waiting times. Many car repair shops also offer convenient seasonal storage of unused tires and discs. You will appreciate the significant benefits of safe driving after every change.
The rapid development of cars and modern technologies brings the need for special labeling of tire parameters
runflat tires RFT, SSR
self- aligning tires Conti-Seal, Seal-Inside, Self Seal
quiet tires Conti-Silent, NST, PNCS, Acoustic
production date - for example, 1022 indicates production in the 10th week of 2022
TWI marking – indicates a protrusion in the tread groove as an indicator of tread wear, i.e. the minimum height with which it is allowed to drive
direction of rotation - rotation
outside - the outside
inside – the inner side
reinforced tire - XL
---
---
Winter tires Winter tires are suitable for cold weather below 7˚C. They are optimally effective in the rain, on icy surfaces, and on snow. At low temperatures, the softer compounds of winter tires have a much higher grip to a dry road surface. This guarantees better traction and braking properties , better controllability and, above all, higher crew safety .
The tread design and higher tread grooves absorb snow better and drain water away from the tires faster. They reduce the risk of aquaplaning . The minimum depth of the winter pattern is 4 mm.
Colored stripes on new tires inform the user that they are new and unused. The parameters of winter tires suitable for a specific vehicle are prescribed by the car manufacturer and are listed in a large technical document.
It is a combination of characters and numbers such as dimensions (width, side profile, diameter), load index and speed index . For example, 185/65R 15 88T.
Winter tires must have the 3PMSF marking or the distinctive Alpine mountain symbol on the side of the tire with three shields and a flake in the middle .
The law imposes an obligation to have matching tires within one axle. For your own safety, always use matching tires on all axles if possible. Ensure the same driving characteristics.
Extend the life of the tires, regularly measure the pressure and maintain the prescribed values determined by the vehicle manufacturer. Have the balance or geometry checked every time you change shoes. Before storing the tires for the season, remove stones and properly clean them of all deposits. Store them in a dry, dark and cool place.
better properties on a cold road compared to summer tires better grip on snow better drainage of water from the tread less risk of aquaplaning
need to change tires at temperatures above 7°C purchase price - need to have a complete set of tires need for seasonal storage
How to treat the car before winter?
Universal cleaners
All-season tires ALL SEASON all-season tires are a compromise between the properties of summer and winter tires. Individual manufacturers prefer more winter or, on the contrary, summer admixtures in the composition of the material. If winter mixtures predominate, then they are less suitable for use in summer. They wear out faster, have a greater tendency to float in turns. Conversely, the predominance of summer compounds worsens grip and braking distance at low temperatures in winter.
On the side of the jacket they must have the marking 3PMSF or a prominent Alpine mountain symbol with three shields and a flake in the middle . The sign M+S (mud and snow) indicates use in mud and snow. However, it does not indicate their approved use in winter as certified winter tires.
In general, all-season tires are recommended for driving up to 5,000 km per year, or when driving on well-maintained city roads. They can also be used in southern countries with short-term occurrence of low temperatures, a minimum of persistent rains, or exceptional road coverage with snow and ice.
This is an economic compromise for car owners to not have to keep two sets of tires. However, even with low mileage and low wear, tires need to be changed every four years.
However, it is still true that winter tires are recommended by automotive experts for every drive to the mountains and to winter resorts.
economic compromise of using one set of tires and discs no storage requirements no replacement costs
increased wear compromise properties throughout the year suitable for lower annual mileage suitable for urban agglomerations suitable for southern countries
Car cosmetics
EU tire label The EU tire label clearly informs about the environmental and safety parameters of the tires. The basic criteria are:
QR code – code for accessing the database of EU product information sheets
Product ID code – unique identification of the tire
tire name and dimensions
with the fuel efficiency symbol – indicates use for both combustion and electric cars
degrees of rolling resistance - 5 degrees in the range A to E, expresses fuel savings in liters per 100 km at a speed of 80 km/h
degrees of wet grip - 5 degrees in the range A to E, expresses the length of the braking distance in meters from a speed of 80 km/h
external noise in dB – 3 degrees in the range A to C
winter tire symbol 3PMSF - Alpine symbol
symbol Icing shield for the designation of Nordic winter tires complying with the standards for driving on ice
It is true that grade A indicates the given parameter as the best .
Choose tires with a compromise. Consider the prevailing road surface and terrain, the capabilities and potential of the car, and your personal driving style.