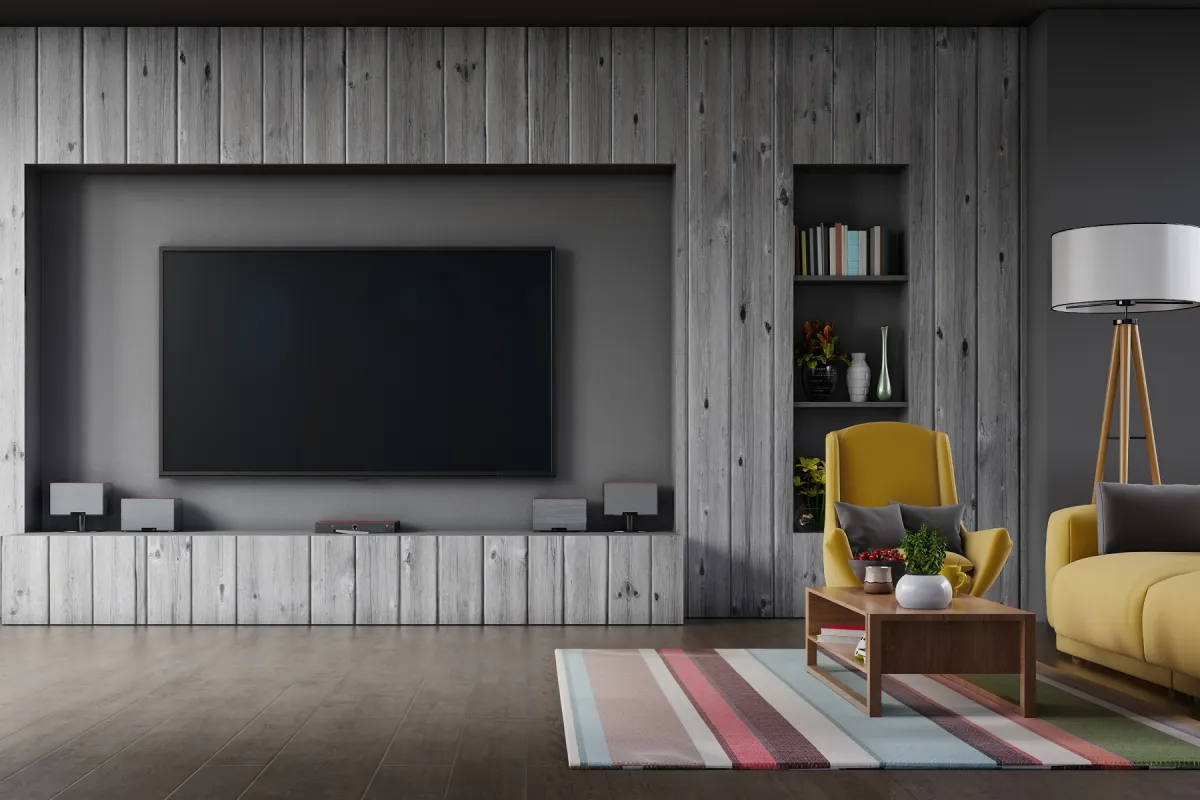 03.12.2022 | Editorial office
Economical TVs for everyone all year round
Television receivers with modern functions are economical, intelligent SMART devices for every household. Rich functions, ultra-flat timeless design, excellent image and sound predestined them for everyday use. Do you love sports broadcasts, film stories, entertainment, music or documentaries? Do you get information from around the world from news channels? Planning to use your TV as an entertainment center with game consoles? Do you have health restrictions, do you need a companion, or do you need to save electricity? Choose the most suitable TV device. Focus on the parameters according to your usage preferences.
The diagonal indicates the size of the screen. The general recommendation is to place the TV receiver so that the viewing distance of the screen is at least three times the size of the diagonal.
Resolution is also related to this. The larger the diagonal, the more resolution is needed for high-quality display of details. It also depends on the resolution of the program itself, the so-called signal source, with which resolution the program will be displayed. Do you have a connection via fiber optic cable, satellite or IP TV via a network connection in your home? Do you use CD, DVD, Blu-ray players or other digital signal sources? Today's standard is HD and Full HD broadcasting . Watch extra-quality satellite programs in Ultra HD resolution on 4K televisions , or almost realistically displayed programs from external signal sources on 8K devices . The entire image is drawn using points, the so-called pixels. They contain red, green and blue components to display any color. For example, 4K TVs contain 3840 x 2160 pixels to display each scene.
Do you plan to watch TV at night and play games during the day? Choose a device with higher brightness and contrast. For daytime viewing, a TV with a brightness of at least 500 cd/m2 with the possibility of individual adjustment is suitable. Contrast is a ratio parameter in displaying black and white. The higher the contrast, the more vivid and realistic the colors will be even in daylight. For a high-quality display of action and sports scenes, a refresh rate of at least 100 Hz and a fast response of 8ms for smooth movement are recommended. If you plan to watch TV with your whole family and friends, choose a TV with the widest possible viewing angle in every direction from the center of the screen. It is true that different technologies have different viewing angles. By default, the sound quality of flat and thin TV receivers is improved by connecting to a Soundbar.
Smart TVs enable Internet connection for watching the offer from the archive, online programs and streaming services. Different manufacturers support different operating systems, for example Android TV, Tizen, WebOs, Linux . Extenders are Bluetooth, DLNA, or WI-FI technologies. The most important parameter for choosing a new TV is the choice of display panel technology. It will affect image quality, energy consumption and the final price.
---
---
OLED televisions OLED TVs offer the best contrast between black and white. They work on a different principle than LED technology. The principle of organic diodes of OLED panels allows you to independently regulate or turn off the backlight of each pixel. This achieves a blacker black than with other LED panel technologies. It provides the best contrast for day and night program viewing. OLED TV devices are characterized by large viewing angles. Integrated tuners make it possible to receive all basic types of TV broadcasts in most OLED Smart TVs. Terrestrial digital DVB-T, cable DVB-C, and satellite DVB-S broadcasting.
the best rendering of black color in night scenes the best contrast black/white color the best viewing angles the fastest response light weight
higher energy consumption compared to QLED TV, the highest acquisition costs
QLED TVs Technologies of QLED televisions, NanoCell, ULED, or QNED mini LED TV devices are an improvement of older LED technology. They are typical of the panel backlighting with LED diodes. They are characterized by improved algorithms and technologies for achieving more perfect color display, advanced motion processing, better brightness, contrast and other parameters. The upscaling function automatically improves the image quality from a lower to a higher resolution for a better viewing experience when watching older programs. Most new TV receivers are equipped with a lot of connectors and ports. The basis is HDMI, USB, LAN connectors, as well as a CI-slot for a satellite decoder. With the Ambilight function, the backlight of the TV's perimeter changes dynamically along with the broadcast program. Turn your home into a home theater with a TV with a diagonal of more than 2 meters. You will definitely appreciate the possibility of voice or smartphone control. A number of gadgets expand other options and functions of TV receivers.
acceptable rendering of black color acceptable contrast black/white color acceptable viewing angles lower energy consumption compared to OLED TV lower price compared to OLED TV
lower contrast compared to OLED TV black is more gray compared to OLED TV
LED televisions LED TV technology is the most widespread type of display. Backlighting is provided by LEDs. LED TV devices have the lowest consumption and are cheaper than both QLED and OLED TVs. Due to their properties and parameters, LED panels are suitable for TV sets with smaller diagonals for caravans, cottages, or kitchens. With basic Edge LED backlighting , the LEDs for backlighting are located on the edge of the panel and the light spreads through light-conducting layers. With Direct LED backlighting , the LEDs are distributed over the entire surface of the panel. Direct LED together with the Local Dimming function improves the display of dark scenes in particular. LED TVs reach a standard viewing angle of 170 to 178°.
low consumption, longer service life, favorable purchase price
Televisions
Energy label for televisions The EU energy label for televisions, monitors and displays clearly informs about the basic energy parameters of the devices. A significant scale of energy efficiency informs in the range A to G about the class of energy efficiency. The most economical TVs are proud of the A designation. The comparative energy parameter is energy consumption at standard dynamic range (SDR) in kWh/1000 hours and also energy consumption at high dynamic range (HDR) in kWh/1000 hours. Additional information is the size of the diagonal in inches and centimeters, as well as the horizontal and vertical resolution. It includes the exact marking of the device and a QR code. It contains a detailed product information sheet in the product database.