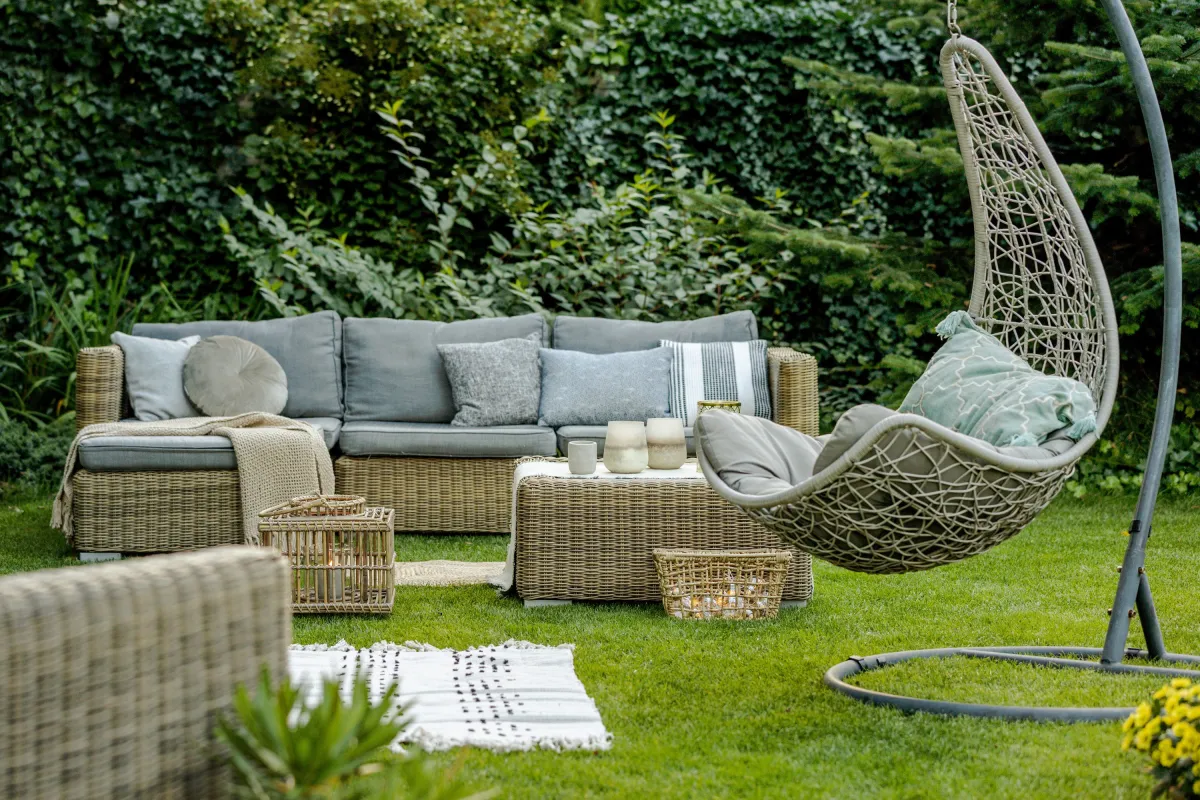 06.08.2022 | Editorial office
What materials are garden furniture made of?
Garden furniture is made from a large number of different materials. The offer includes sets made of wood, rattan, bamboo, metal or plastic. They are often combined with other textile, ceramic or glass accessories. Stackable and folding garden furniture is extremely useful. Store it in adverse weather easily, quickly and safely in garden houses, boxes or gazebos.
When choosing, it is good to consider the use and layout of the furniture.
Do you have a shed, gazebo, covered porch or garage available?
Do you have an uncovered terrace with a solid floor or just an unpaved garden area?
Also consider the method of use, the need for maintenance, portability, the possibility of storage, or the design.
---
---
Solid garden furniture made of wood Wood is the oldest natural material for making seating. Today, we classify massive furniture in the category of classic to luxury products. It stands out for its quality and elegance. It has an extremely long service life if simple maintenance and protection principles are followed.
classic, artisanal, massive design natural ecological material from renewable resources luxurious appearance pleasant, warm to the touch large range of colors
the most expensive, higher weight, the need for regular maintenance, poorer storability, more difficult portability
Teak garden furniture Teak wood is one of the exotic woods. It has a natural honey brown color. The wood is resistant to adverse weather conditions. The furniture is popular for its long life. In combination with metal and aluminum, it stands out for its low weight. A typical feature is the possibility of folding and stacking.
natural and ecological material from renewable sources large selection of design in combination with other materials typical coloring resistant to pests long life easy maintenance
more expensive natural material belonging to exotic woods
Garden furniture made of natural rattan Garden furniture made of natural rattan belongs to nature-friendly eco-furniture. It is characterized by an elegant retro style. In a high-quality design, it is also a luxurious addition to any garden terrace or home wellness area. The furniture is a typical natural brown color.
made of natural material, enables sustainable development low maintenance requirements treatment by washing and impregnation with colorless varnish light, airy material retro seaside style with the smell of luxury
higher cost, especially in high-quality handmade products lower resistance to direct action of water and rain can only be stored in dry areas
Garden furniture made of artificial rattan The popular trendy furniture is made of a combination of steel frame and artificial fiber, also called polyrattan. This fiber is characterized by long-term resistance to UV radiation, high summer temperatures and winter frost. It is stable and has little stretch, thus maintaining long-term sitting comfort.
affordable material, larger color range, long-term color stability, resistant to adverse effects of weather and rain, suitable for open areas, swimming pools, hot tubs and saunas, just wash
Artificial rattan
Garden furniture made of metal Metal furniture stands out for its almost unlimited design possibilities in combination with other materials. In the anti-corrosion version, it has an extremely long service life without the need for maintenance. It is enough to wash the furniture with ordinary cleaning agents. It is light, compact, portable. It is suitable for both modern and classic spaces.
durable, rigid, solid material maintenance-free in anti-corrosion stainless steel or galvanized steel unlimited design of various styles of execution a touch of classicism and luxury portable and storable affordable
Aluminum garden furniture Aluminum is light, color stable, not subject to corrosion or the effects of weather. Due to its properties, it is used for the production of light portable furniture for tourists and camping, but also for the production of luxurious garden seating. It is often combined with other materials with extended life.
light, suitable for carrying, folding and storing, the possibility of various color adjustments without the need for maintenance, pleasant to the touch, affordable (it also depends on the combination with other materials)
possible damage due to improper handling, especially after bending
Aluminum chairs
Plastic garden furniture Plastic garden furniture is the most affordable. Does not require maintenance. However, plastic is less resistant to the effects of the weather, especially to high temperatures, frost and UV sunlight. It fades and becomes brittle over time. Plastic furniture is available in a smaller range of colors and designs.
excellent affordability, light, compact, portable, warm and pleasant to the touch
small range of colors typical plastic appearance low resistance to UV radiation shorter lifespan changes color shade over time brittle, not suitable for non-reinforced surfaces