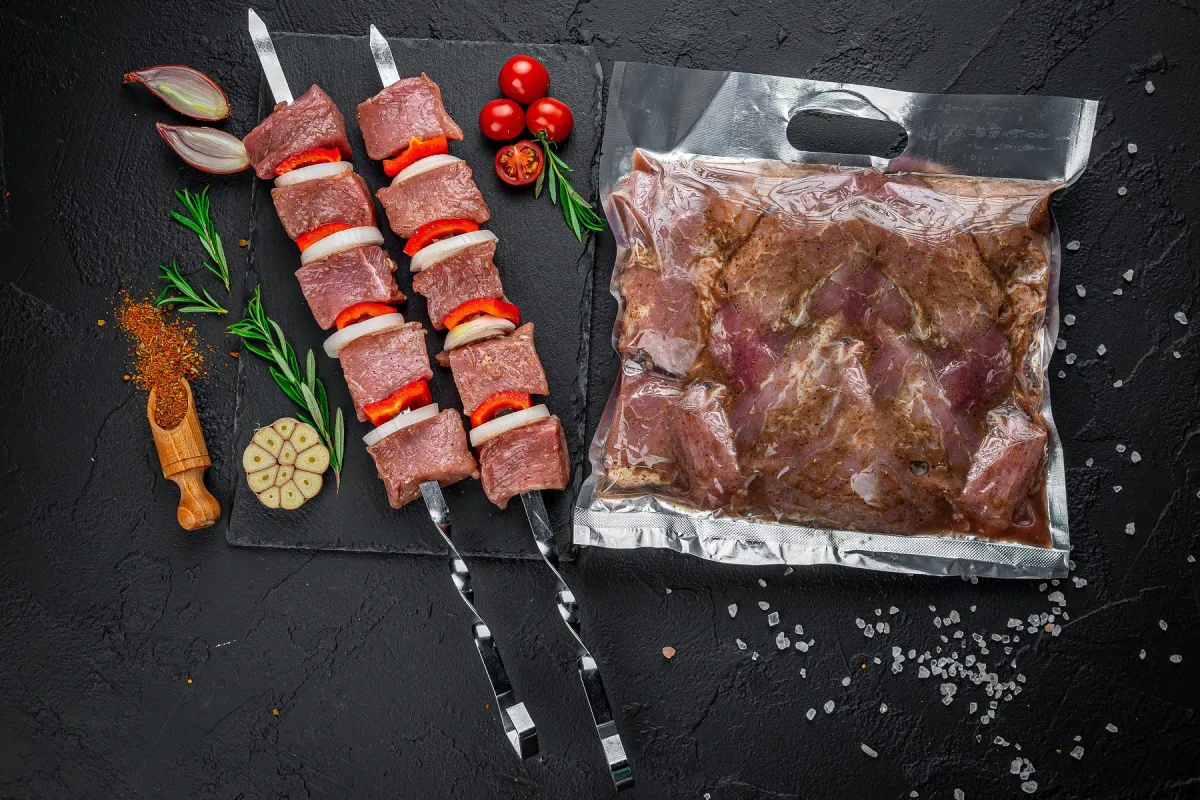 18.11.2022 | Editorial office
Vacuum sealers for longer preservation of fresh food
Do you cook for a large household? Do you need to freeze or store cooked food, fresh fruit, vegetables or meat? Behave like a pro in the kitchen. Keep their natural color, smell and taste! Vacuum! Food stays fresh longer. Even five times longer! Foreign odors and bacteria do not get into the vacuum-sealed packaging. And at the same time, you will also save a lot of storage space in the refrigerator or freezer.
How to do it? Store food in a vacuum container or shrink wrap. Use a vacuum cleaner to suck out all the excess air. The shrink wrap copies the contours of the food and wraps it tightly. Watch for end of suction signaling . Close the vacuum valve . In the case of a vacuum sealer with welding, seal the foil manually, or the process will end automatically. The opening will be hermetically sealed. And it's done. The advantage of food vacuumed in bags is their smaller volume and more economical storage.
Try for yourself which foods are better to vacuum in solid containers and cans and which in shrink wrap. Very fragile foods or berries should be frozen first and then vacuumed. You will prevent them from getting bruised in your pockets.
---
---
Household vacuum cleaners Household vacuum cleaners are suitable for occasional use.
Try vacuum pumps . They are the cheapest alternative. They are used with special cans or bags. They take a little practice. The connections created are not the strongest. They are suitable for short-term storage of fresh food.
Automatic vacuum machines are more practical. Insert the end of the grocery bag into the device according to the instructions. The device automatically sucks out the air and seals the bag. In the case of an integrated cutter, cut off the excess part of the bag and store.
Choose devices in a standard width from 30 to 40 cm according to the width of the bag or foil.
An important parameter for your choice is performance . See devices with sufficient vacuum for air extraction. In domestic conditions in the range of 0.7 to 0.9 bar. Also monitor the air suction speed parameter. A speed of 12 l/minute is sufficient.
affordable, smaller, compact dimensions, manual - pulse control of suction power and vacuum, rich vacuum accessories, tubes for vacuum jars, vacuum stoppers for wine, vacuum containers for marinating under vacuum, good price/performance ratio
classic welding, lower power, fewer functions, made of cheaper materials, lower processing quality, higher price of original accessories
Vacuum sets
Vacuum bags
Professional vacuum cleaners Is the power of your home vacuum cleaner not enough? Need a sturdier, more powerful device? Secure a professional vacuum cleaner with top performance. They are suitable for frequent use and for packing large quantities of food. Control the pressure in the mode for gentle air extraction for vacuuming fragile or liquid foods.
Work continuously with the integrated vacuum film tray.
Cut the conveniently vacuumed foil with a high-quality integrated cutter . Anti-slip treatment will make handling easier.
With the marinate function , your meat will be marinated under vacuum extra quickly.
double weld, extra strong weld for liquid foods, high performance, suitable for commercial use, suitable for vacuuming liquid foods, bowl for excess moisture, lower noise level, temperature monitoring inside the vacuumed bag or can, display for parameter setting and temperature monitoring, touch control, stainless steel design
Vacuum sealers for the sous-vide method Do you like modern cooking methods?
In the case of the gourmet sous-vide method , you prepare the food in a vacuum and a water bath at a low temperature for a long time.
Easily prepare healthy and tasty meals using a vacuum cleaner and a Sous-vide cooker or pot . Cook food evenly and gently. Enjoy the real taste of food in your own kitchen.
Vacuum films for sous-vide are specially designed for cooking, they can withstand high temperatures up to 120°C.
low temperature gourmet cooking automatic even temperature maintenance modern design
longer sous-vide cooking time