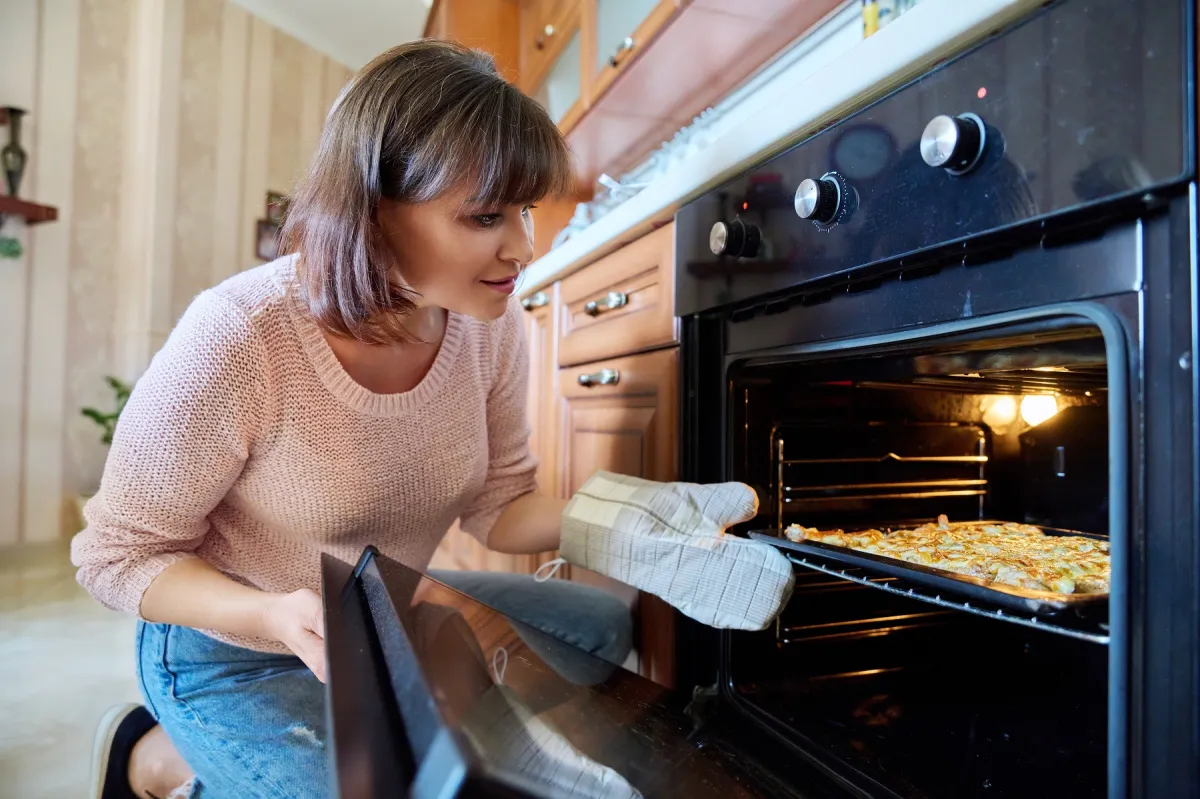 23.11.2022 | Editorial office
Stoves and ovens for baking for the perfect culinary experience
Stoves and ovens are essential helpers in the kitchen for preparing tasty, colorful and perfectly baked dishes.
The basic parameter of your choice is the source of energy and its consumption according to the data on the energy label. Choose free- standing stoves or built-in ovens . Gas, electric or combined. Choose the volume of the oven and its dimensions according to the size of the household and the number of family members.
Do you prefer home cooking and baking? Do you like to experiment? Replace your classic gas oven for baking with a modern electric oven. Get lots of features. You can have integrated baking, heating, grilling or defrosting in one device. Self-cleaning technology using steam or high temperature ensures simple maintenance. The benefit will also be a fan for extracting odors from inside the oven, a special enamel surface resistant to dirt, or surface treatment against fingerprints.
---
---
Gas ovens for baking Gas ovens for baking are a standard choice. Gas stoves are a cheaper alternative, especially in the form of a free-standing appliance with a gas hob. Typical are the automatic ignition of the burners after turning the knob and pressing it briefly. The Stop Gas safety function stops the gas supply after the burner goes out.
Or are you looking for a rustic, modern stainless steel or stylish glass ceramic gas oven design? With the function of a hot air oven, telescopic extension of the grids , with a thermostat, with a door against burns made of safety triple glass, you get a quality appliance. The integrated electric grill expands your cooking options.
lower purchase price of classic gas stoves, lower energy consumption
available only lower burner for gas heating uneven heat source only from below possibility of burning food poorer regulation and setting of desired temperature less modern functions and smart solutions
Gas stoves
Electric ovens for baking Electric ovens are the basic equipment of electric stoves. Both bottom and top heating are typical. Fans for the uniform hot air baking function are also standard. High-quality electric ovens are complemented by the convection oven function for controlled use of steam when baking. Use hot steam for juicy baking and grilling. Preserve the necessary nutrients and vitamins by precisely adjusting the temperature. Check the temperature of the food with temperature probes placed directly in the food. Use recipes for sous-vide cooking.
Combined hot air ovens with microwave heating expand other options for food preparation. Looking for something more? Connect your smart home with the control of your Smart electric oven . Turn on preheating via mobile phone or select a pre-set baking program of the recipe field.
bottom and top heating even distribution of heat possibility of convection oven function precise temperature setting and regulation possibility of microwave heating function sous-vide cooking function 6th sense Smart functions
higher requirements for electricity consumption
Freestanding stoves with oven Freestanding stoves with an oven are suitable for smaller kitchens. They are usually less expensive to procure and install. Their hot air ovens combined with a grill are practical. Hot air ovens are also suitable for drying fruits and herbs. Choose a gas, electric or mixed version of the oven and cooking surface. Gas burners, electric cast iron plates, glass-ceramic or induction cooking surfaces and their combination are available.
the possibility to choose the type of hob, the possibility of combining gas and electricity, the possibility of relocating the stove, an acceptable purchase price
Modern hoods for a stylish kitchen
Built-in ovens for baking Dimensions are key for built-in ovens to be installed in the kitchen cabinet. Choose a gas or electric built-in oven . Choose the appliance design, the right width, height and depth. The most modern electric Smart ovens are equipped with many functions. Set the minutes, watch the selected programs and parameters of the 6th sense technologies on the display. Use a convection oven, defrosting or microwave heating. Grill poultry and meat on the rotisserie. Make it easier to handle the baking trays by extending the racks telescopically. Simplify maintenance with self-cleaning functions using steam. During pyrolysis , the oven is heated to approx. 500°C and impurities are burned to ash. Safety glass doors with triple glazing and door cooling ensure safe handling. Get a convenient set of built-in oven and hob, or their combination with other built-in kitchen appliances. Get plenty of accessories for convenient cooking and baking.
a large range of designs from rustic to ultra modern easier maintenance with self-cleaning functions a number of pre-set programs and functions controlled by one button integrated smart intelligence
higher consumption of electricity
Kitchen thermometers
Kitchen gloves
Baking bowls
Bakeware
Mini ovens for baking Tabletop mini ovens are ideal for small households, cottages and cottages. They tend to be an inexpensive solution with a lot of functions. The standard is a hot air oven, complete with a rotating grill spit. In addition to baking, you can also use the double plate for cooking or heating food. You will no longer have a problem preparing crispy pizza, fries, or grilled chicken. Set the temperature and timer. Let the oven do the baking.
small, compact dimensions, lower weight, easily portable, an advantageous combination of baking and cooking, also suitable for drying fruit and herbs
small internal volume higher energy consumption of cast iron plates