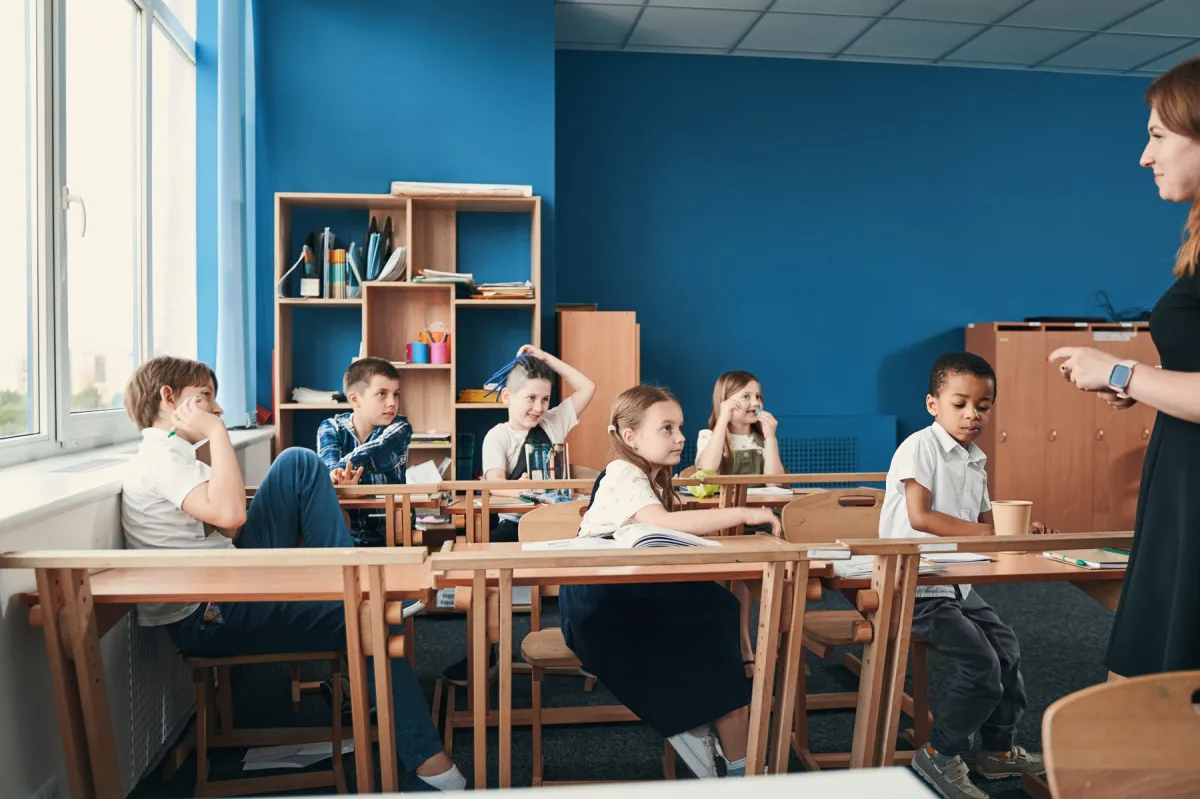 06.09.2022 | Editorial office
School is calling!
The summer holidays are over. It is time to prepare for the fulfillment of school duties . Each school will recommend school equipment according to its own focus and specialization. Your class teacher definitely has a detailed list.
Create a pleasant study environment for your schoolchildren at home. A desk, a chair and good lighting are the basis of a student's calm preparation. A growing chair with a footstool and a growing table will create a working oasis for your schoolchild. Complete your school equipment . Show the uniqueness, individuality and style of your children. Help them choose their own color combination and theme. And you will certainly also need basic school supplies and aids.
---
---
School bags and backpacks School bags and school backpacks accompany your schoolchild during the entire period of education. They are an essential aid in fulfilling study obligations. All school supplies must fit in them. The school backpack is more suitable for secondary school pupils and students.
A high-quality backpack made of waterproof material certainly meets all the anatomical and ergonomic requirements of a school bag, but it is also supplemented with a separate compartment for a laptop, tablet or mobile phone. There is a handle, headphone jacks and side pockets for a bottle and a snack.
The color rendering and style of school backpacks is a reflection of current trends. Their models are mainly cartoons, movie heroes, or natural scenes. What requirements should quality school bags and backpacks meet for the first steps towards education?
made of high-quality ecological materials resistant to abrasion
ensured even distribution of weight by internal organization of folders
anatomical shaping and ventilation of the back support for everyday wear
ergonomic shape and adjustable shoulder straps
soft padding against cutting into the shoulder
enough reflective elements
quality fixed fastening
side pockets for water bottle and snack
raincoat for protection against rain and pollution
a large range of colors and a choice of motifs to highlight the child's individuality
wheels and pull-out handle for easier towing on the way to school
School bags
School backpacks
School sets Stylish school sets highlight the individuality and uniqueness of every schoolchild. It will be an exclusive friend that will facilitate the organization of your child's work at school.
The basis is a three-part set. It usually contains a school bag, a shoe pocket and a pencil case.
The five-piece set also includes a school case and boards for A4 notebooks. The eight-piece set includes A5 notebook boards, a snack box, a school apron and a drinking bottle.
Naturally, you also have other combinations at your disposal, complete with a laptop bag, tablet cases, mobile phones, various cases, key rings, or wallets.
School sets
Desks Find a desk that suits your schoolchild's needs. The essence of a functional learning environment is a large work area for storing books, notebooks and aids.
Place the desk so that the incoming sunlight does not create a shadow while writing.
The unique growing desk will allow you to set the work surface to the desired height according to the age of the schoolchild.
You can also change the tilt of the desktop when writing, drawing, painting, or reading. Only correct posture while sitting will guarantee the healthy growth of the child.
A suitable addition to a growing table is also a growing chair with a footstool.
PC tables
Desks
Chairs Choose suitable chairs for hard study, for relaxation or for computer games. Provide children with perfect comfort .
The design with wheels makes it easy to move. Anatomical shaping of the chair, adjustable support for the head, spine and elbows are essential when sitting for a long time.
The timeless design and durable materials are a practical choice for the entire period of study.
Lighting and lamps A large and well-lit work surface is the basis of studying without rapid fatigue. For light well-being, complete the student's room with several lights.
Protect your children's long-term strained eyesight. In addition to central lighting, there are also energy-saving LED lamps for the table or the wall. Reduce eye strain by providing sufficient surface lighting for writing, reading, or relaxing games on PC or game consoles.
Don't forget the lighting when watching movies and listening to your favorite music. High-quality lamps are characterized by touch switching, continuous brightness regulation , a rotating and tilting head, or a socket for charging mobile phones.
Look and choose the most suitable lamps and lamps for your lighting.
Small lamps
Table lamps
School supplies and aids You will certainly also need school supplies and other aids, without which no schoolboy or student can do. When choosing, consider ergonomics for right-handed or left-handed users. They should fit perfectly in the hand for a comfortable grip and should not slide when held.
Pens and stationery Check what type of pen and stationery your schoolchild will need. Choose also according to the preference of the left or right hand when writing and manipulating.
Writing tools
Ink pens
Ballpoint pens
Pencil cases School notebooks are always ready to receive everything a student needs. They are equipped with a lot of rubber bands for fixing stationery and aids.
They are either single or multi-storey. The colors and motifs are almost limitless and are usually combined with a school bag.
Please the schoolboy with a pencil case with a large storage space and a stylish appearance.
Pencil cases
Pencil sharpeners A pencil sharpener is an essential tool when writing or drawing with pencils and crayons. Quality graters are equipped with a safety system against blade separation.
The graters also include a box for collecting waste from the grater. Choose a sharpener in your hand, with a table attachment, or an electric sharpener for easy and quick sharpening of pencils.
Pencil sharpeners
Scissors Don't be afraid to put high-quality school scissors in your child's hands. They are suitable for regular cutting, as well as for various artistic techniques .
They have an ergonomically shaped handle, a rounded tip and a protective cover against injury. Choose scissors designed for right- handed or left - handed users.
They can cut straight, but also decoratively in the shape of waves or triangles. The basis of the scissors is high-quality stainless steel for a sharp cut.
Scissors
Tools for painting and drawing High-quality colored pencils and crayons have intense colors, are ergonomically shaped , with a surface that prevents fingers from slipping when gripping. Already at a young age, they help with proper posture.
They are used by default in art education at schools
school tempera paints
school watercolors
oil paints
acrylic paints
chalks
Creative art sets are full of various tools for painting and drawing. They usually contain colored markers, crayons, watercolors, a notebook, coloring books, templates, stickers. Everything is cleverly stored. Keeping your desk organized will be easy.
Markers
Watercolors
Oil paints
Acrylic paints
School brushes
Tools for drawing and geometry No student can do without a ruler. Templates, protractors and rulers are basic aids in drawing and geometry. Use ready-made sets of rulers and templates.
Get quality compasses for your future engineer. Draw, measure distance, draw pictures.
Practical aids and accessories School diaries and calendars are classic aids and are especially intended for older students. In addition to a clear calendar, they also have a place for the school schedule, for notes, contain various useful knowledge from the natural sciences, or multilingual translations of words. Modern digital calendars not only display the date and time with an alarm function, but also have an integrated home weather station.
Notice boards and magnetic boards are a useful and practical aid. Save notes, drawings, lists, sketches, and photos quickly and clearly.
Arrange a place on your desk quickly and neatly. Desk organizers for small items and various paper organizers will not take up much space. File, sort, organize your duties.
Magnifiers and microscopes Magnifiers are intended for reading miniature texts or for examining small objects. They have different magnifications, choose the one that best suits your needs. Magnifiers that keep your hands free during long-term work are very practical. Use the table magnifier also as a standard LED lamp .
Ordinary microscopes have 20 to 30 times greater magnification than magnifiers. They are intended for young explorers to explore the mysterious microworld. Modern digital microscopes can be connected to a PC . Take pictures of samples or details of your miniatures, measure their dimensions. They also enable 300 to 900 times magnification.
Magnifiers
Microscopes
Calculators Are your students counting lots of math examples? Give them calculators with basic or complex calculation functions. Take care of the environment and choose a calculator with solar charging. A large graphic or touch screen and good readability in poor lighting conditions is a guarantee of quality. The metal case will extend the life of your calculator in the harsh conditions of a school backpack.
Book readers, tablets, laptops Do your children need a lot of books to study? Give them a quality e-book reader. Give them the school library with them, including their favorite books. Magnifying details and the touchscreen for browsing is no longer a problem. Download hundreds of books over WI-FI. High-quality waterproof readers have no problem even outdoors. The text is sharp and natural even in direct sunlight.
Older students certainly cannot do without a tablet or laptop. Be prepared to study online. Secure yourself in time and choose a suitable device for you and your child with sufficient performance and size.