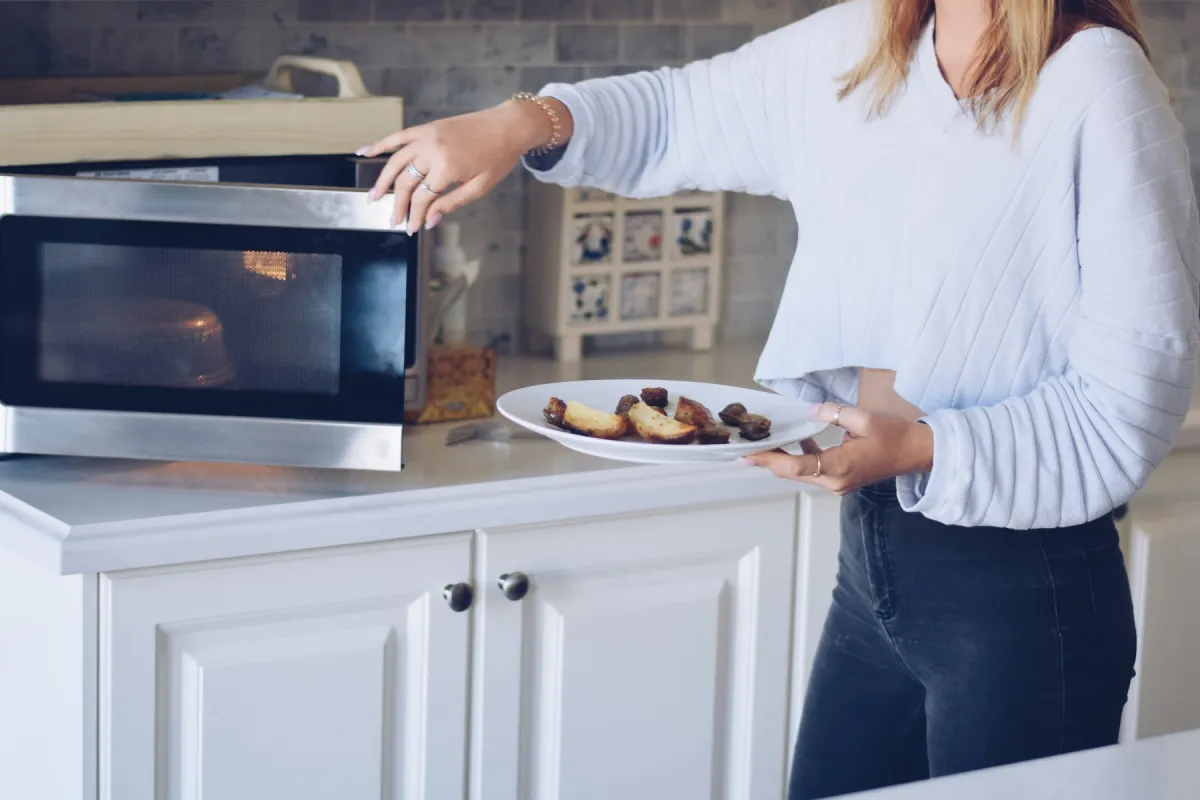 10.11.2022 | Editorial office
Microwave ovens for every practical kitchen
Microwave ovens belong in every practical kitchen. The principle of operation of microwaves during cooking will save you energy and time. They simply and quickly heat ready-made liquid and solid foods without the need for oil and without burning.
Do you prefer a stylish design or a retro look ? Modern microwaves are a decoration of any kitchen unit.
Choose the volume of the oven according to the size of your household. A volume of up to 30 l is sufficient for a family of two to four.
Choose one of the microwave-grilling automatic programs on your multifunctional microwave oven . Or set the microwave power and timer manually. It is true that the higher the power, the sooner the dish will be ready. Energy consumption will increase especially when grilling food.
Do you need to heat, defrost, bake or cook ? Pour water into the reservoir and steam. With the Steam function , you preserve the necessary nutrients and vitamins in your food.
Check the information about the set parameters on the touch panel .
The sensors of the 6th sense technology monitor the temperature and humidity in the food and automatically set the food preparation parameters accordingly.
You will definitely appreciate the clear glass door, economical LED lighting and enamel or ceramic surface for easy maintenance. With the self-cleaning function , maintenance will be easy.
With the Crisp function , you can surprise your friends with crispy bread, cake or pizza. But you can also use your microwave in many unexpected ways.
---
---
Freestanding microwave ovens Freestanding microwave ovens are both a practical choice and a design addition to any kitchen. Choose an exceptional red color or a retro look.
Consider left/right door opening.
Use microwaves for grilling, or as hot air ovens and hot air fryers.
Prepare every meal correctly and tasty repeatedly. Use only dishes made of materials intended for use in microwaves.
lower purchase price, the possibility of relocation as needed without the need for professional assembly, a larger color range of surface treatment, a larger selection of modern materials and retro design
takes up space on the surface of the kitchen counter
Stoves and ovens for baking for the perfect culinary experience
Microwave ovens
Built-in microwave ovens Built-in microwave ovens are especially suitable for kitchens equipped with other built-in appliances. The choice of microwave needs to be mutually coordinated with an emphasis on the overall design of the kitchen. Find your dream set of home built-in appliances.
You will appreciate the Jet Start function when defrosting liquid meals and soups. Preheat your oven with the Quick Heat function when baking pizza or cookies. Do you pre-prepare meals for the freezer? You will appreciate the Auto Reheat function for their automatic heating.
Is it not enough and are you looking for something extra? The hinged door will make handling easier for you when preparing food. Or will you be pleased with models with the function of preparing bread or yogurt?
design accessory for the kitchen saving space on the line functions and features comparable to freestanding microwaves
the need to ensure heat ventilation, higher acquisition costs, professional installation, fixed assembly, it is necessary to design an ergonomic location
Kitchen cleaners
Universal cleaners