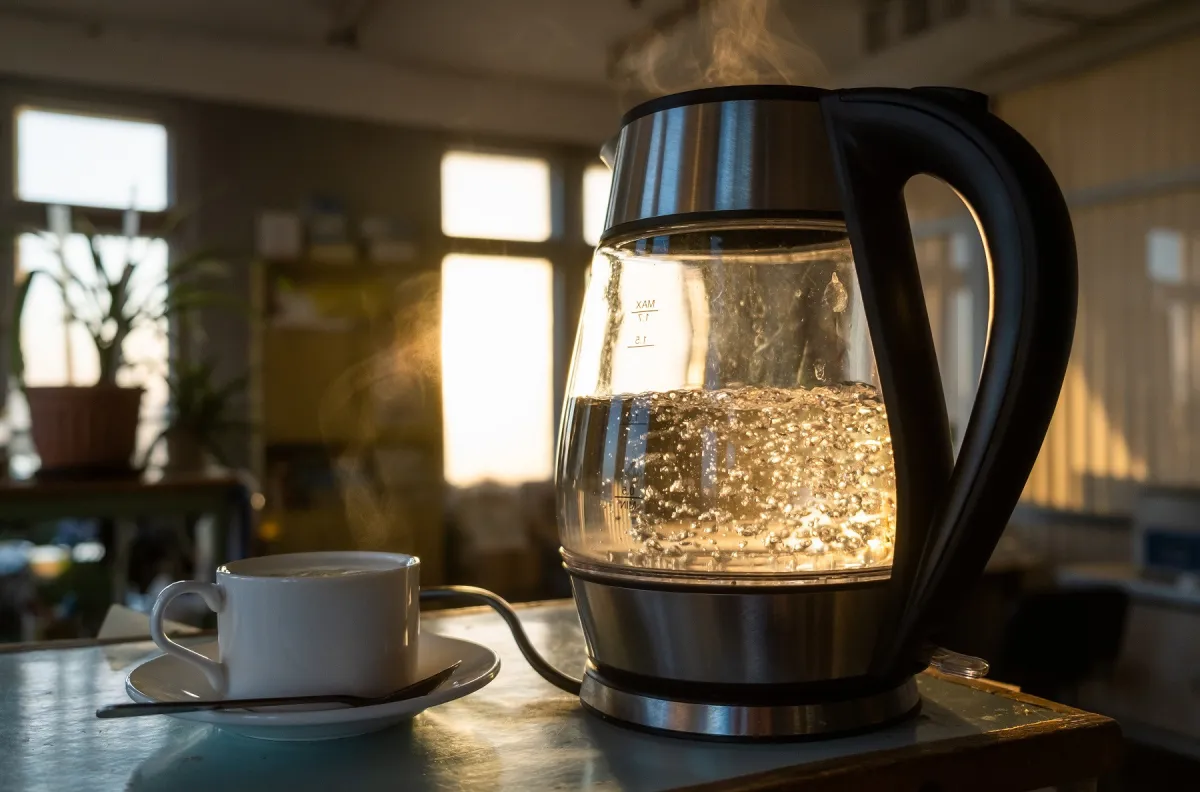 21.11.2022 | Editorial office
Instant kettles for tea and coffee enthusiasts
Are you a lover of classic potted coffee? Do you like to enjoy the taste and aroma of teas from all over the world? Your modern household can't do without a kettle .
Choose the size and volume according to the purpose of use. 0.4 l is enough for a travel suitcase. For multi-member households and party gatherings, you can use larger 1.7- to 3-liter kettles. Do you prefer classic, unobtrusive , ultra modern or retro style ? Do you care about nature, are you interested in products made from renewable materials? Choose according to several parameters and functions.
Heat water faster in a lower kettle with a larger surface area of the heating element. Find out the indication of the minimum filling and watch the water level indicator . Do not heat a lot of water unnecessarily and save energy.
For an ordinary household, the power consumption of around 2.2kW/1.8l kettle volume is sufficient. You heat the water quickly enough. To heat a larger volume of water faster, you need more power. Reduce time, but increase consumption.
Keep the kettle clean, free of scale. Choose a device with a spiral built into the bottom . Heat water or other liquids. Descale regularly and extend the functionality and lifespan of the kettle.
Be clearly informed about the operation of the kettle. Follow the light signaling and make sure the safety fuses of the device. Mainly about automatic shutdown after heating to 100°C, shutdown without the presence of liquid, and shutdown in case of overheating. Open the hot lid safely with a button. Pedestal with swivel base for you will facilitate the installation of the kettle in the power supply.
An interesting gadget in the base is the display and control of temperature regulation. Usually in the range of 50°C to 100°C. Enjoy green tea prepared at the right temperature.
The removable filter makes cleaning it easier.
---
---
Plastic kettles Plastic kettles are the cheapest option. Do you mind the plastic look, classic functionality and less noticeable style? Do you need a practical and light kettle for traveling, camping or a cottage? Choose from a large selection of volumes, sizes and power outputs.
inexpensive low weight easy maintenance suitable for occasional use
PVC design, aftertaste of plastics after heating, lower lifespan
Plastic kettles
Glass kettles Do you like sparkling clean? Choose glass kettles. In combination with stainless steel, they are also environmentally friendly. Get rid of annoying smells from plastics. Contribute to reducing the volume of recycling.
Set the water heating temperature according to the type of drink.
Get a stylish teapot backlight with the function of LED lighting of the heated water.
stylish design instantly visible volume of liquid colored backlight according to temperature
higher requirements for maintaining cleanliness, less resistant to damage, higher purchase price
Stainless steel kettles Stainless steel kettles are the most suitable for daily use.
Check basic security features. Get a practical companion for long-term and reliable use.
For easier maintenance and cleanliness, prefer an anti-fingerprint finish.
Choose your color or retro style.
affordable safe and resistant to damage easy maintenance
Ceramic kettles Are you a lover of healthy, country style? Ceramics and unusual style are perfect for your cottage and cottage.
Thicker ceramic material dampens vibrations during heating.
Thermal inertia is an advantage for keeping the temperature longer.
Refresh your vintage living style.
less resistant to damage, higher weight
Travel kettles The travel kettle is irreplaceable in the camp or on the road.
Pack a travel set with glasses, a practical reservoir and a 12V power supply from the car connector in your car trunk.
Discover the world. Pack a small kettle with a volume of 0.4 l comfortably in your travel luggage.
small dimensions, low weight, 12V power supply option
Camping sets
Travel kettles