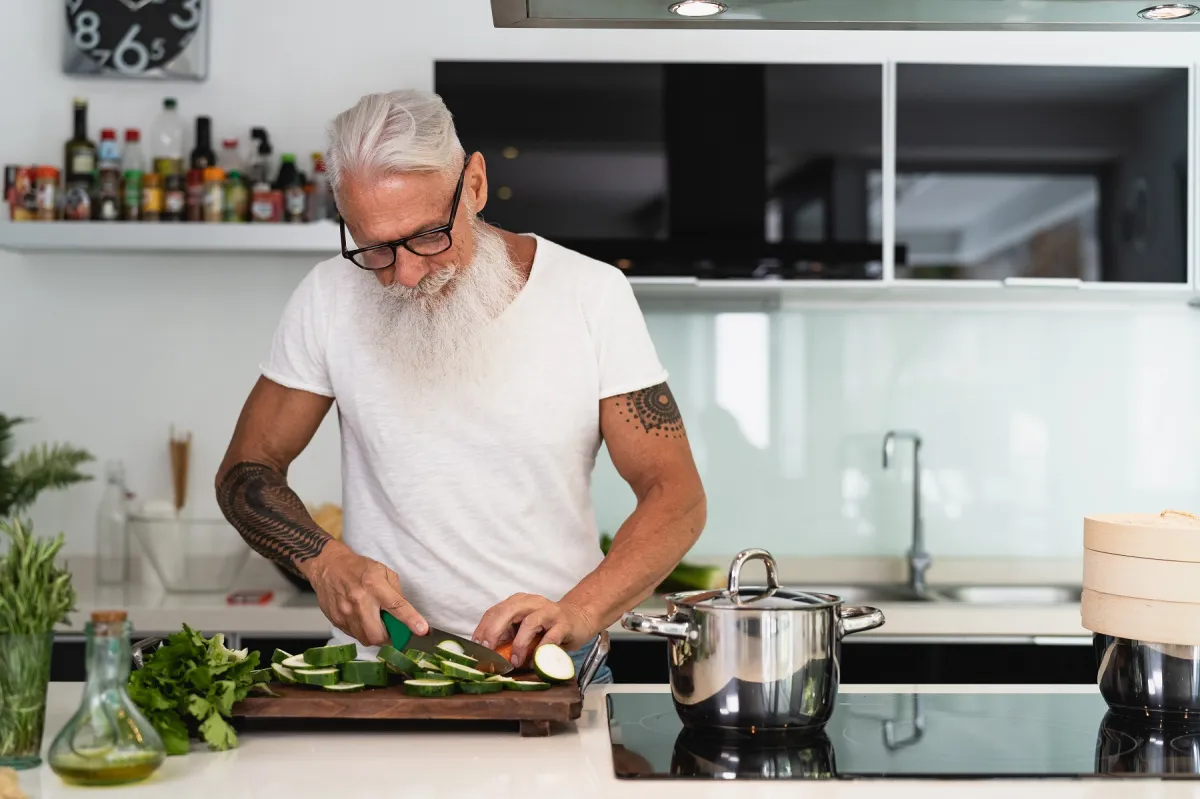 19.10.2022 | Editorial office
How to save money by changing eating habits?
Diet composition. Variety of diet, Eating habits. All this is influenced from an early age, especially by the family and the environment in which we grow up. We all have our favorite and established practices. Try to get inspired and take the first steps to change them. If you manage to save something every day, the overall result will surprise you too. Start immediately with simple measures that do not require additional costs. Reduce food consumption. Eat moderately and healthily.
---
---
Shopping planning Reduce food waste. Buy expensive meat products in small quantities and consume immediately. Extend the life of food by properly storing it in cans, freezing, drying, canning, or vacuum packaging.
Plan your cooking . Cook for several days ahead . This way you save electricity, gas, water and most importantly your own time. Use the saved time for your other activities.
Use the list of necessary foods and ingredients when shopping. Keep a record of everything necessary for further cooking. Keep an eye on your paper or e-notepad. Then you won't forget anything .
Check the stock status repeatedly every time you cook. Check the warranty period of all foods. Preferably use food with an expiration date. Do not make unnecessarily large pre-stocking. Buy in bulk only items that you regularly consume (sugar, flour, pasta, oil, eggs, potatoes, legumes and other durable foods that are the basis of regular meals for every day)
Eliminate family walks in shopping malls with tempting ads and offers. Take a family trip to nature instead. Buying without children will cost you less.
Watch for promotions in nearby stores. Choose foods with a discounted price
Use loyalty cards or reward programs for purchases.
Go shopping full and with your own bags.
Cookbooks
Planners
Cooking, storage Prefer home cooking over buying semi-finished products, delivery, or regular visits to a restaurant. Get inspired by cookbooks. Use simple and proven home recipes.
Limit the preparation of meals from unhealthy foods. Avoid foods with a long shelf life, semi-finished products, or sweetened drinks. Use frozen meals and ready-made sauces, crisps, or bottled water only when necessary as an iron reserve. In addition to the content of unhealthy food additives and preservatives, they are also more expensive.
Complement the time spent with the family with the experience of inventing homemade spreads. Get used to using cheaper and fresh seasonal foods. Experiment with flavors and imagination.
Learn to use leftovers, rice, dumpling, bread, or fruits and vegetables. Find out how. Search for various homemade tutorials and recipes.
Thick and hearty soups will warm and satiate you. Prepare a complete family lunch. Teach your children how to eat traditionally from an early age.
Do not eat out often. A complete family lunch in a restaurant can significantly break your limited family budget. Take your own snacks and pre-prepared food on trips. Pack your lunch in food boxes and thermoses. Eat unlimited hot food wherever and whenever possible.
Cooling boxes
Food boxes
Care and maintenance Keep your kitchen utensils clean . Get rid of all grease, deposits and burns. Also clean the dishwasher , especially the pump and filter. You will have beautifully clean dishes and save on water and electricity. Use high-quality, proven dishwasher tablets .
Clean the glass door of the oven. Do not open the door and you will save up to 30% of escaped heat.
Descale the kettle, the water boils faster and you save on electricity.
Reduce the dosage of cleaning agents. Replace disposable towels with high-quality textile ones.
Cleaning stuff
Dishwashers
Detergents
Home cultivation Try home growing in apartments, on terraces or balconies. They are often unused and empty. Cherry tomatoes, cucumbers, and strawberries will bring you joy in addition to pleasant greenery. Great homemade aroma and taste is irresistible. Season your meals with your own fresh herbs . Always have a small garden with fragrant plants at hand.
Get smart flower pots . The advanced technology used makes it possible to grow herbs simply and without maintenance. The built-in water tank lasts for 2 weeks. The lighting on the pole emits optimal light for the plants. Just insert the original filling with a plant and substrate and you have a rich harvest.
Process and store seasonal surpluses of fruit and vegetables from the garden. Save space in your freezer. Prefer proven processing by drying and canning . You will significantly reduce the demands for additional energy when storing them. Pickle, make your own fruit juices, purees, porridges, marmalades and other snacks.