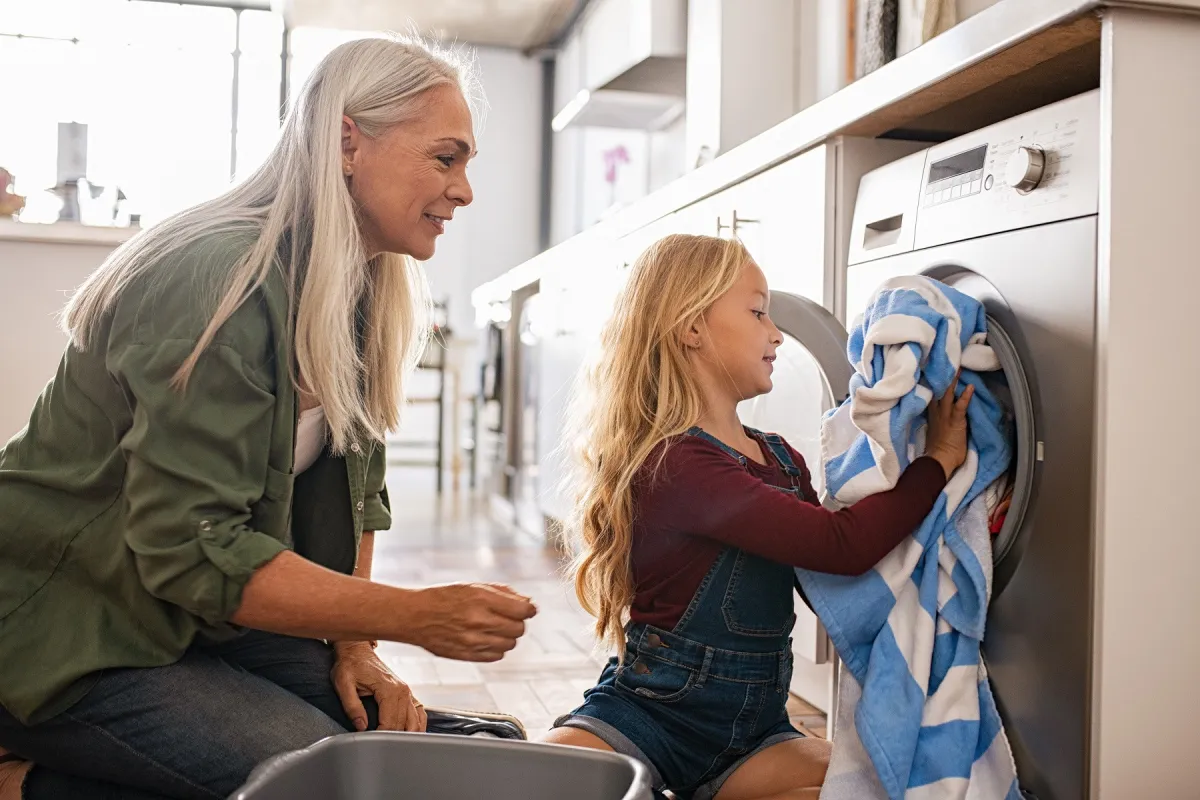 11.11.2022 | Editorial office
How to choose a washing machine and clothes dryer?
The capacity of the drum and also how often you wash will depend on the size of your household , the number of children and their ages. When choosing a washing machine, focus on several parameters.
Will it be a free-standing or built-in washing machine? If you have enough space and a lot of laundry, choose a separate washing machine and separate dryer. Adapt the capacity of the dried laundry to the washing machine. If you have little space in your home, choose a built-in washing machine with a dryer function . But the washing and drying cycle will be longer.
Do you have a balcony, terrace or shelter? Do you need to save energy and water? Then an automatic top-loading washing machine without a dryer or a classic whirling washing machine is all you need. Do you often travel, are you alone and have little laundry? A mini washing machine is ideal for you.
Choose according to the parameters listed on the energy label:
energy class of the appliance
water consumption per washing cycle
spin efficiency class
revolutions
noise
drum capacity
technologies and functions
Choose not only according to the price, but also according to the requirements for energy and water consumption.
---
---
Front loading washing machines Free-standing front-loading washing machines are the most widely used. Install them anywhere on a flat floor. You can move them at any time.
The basic parameter for selection is the capacity of the washing drum and the weight of the laundry. Usually it is 6 kg to 10.5 kg of dry laundry. With gradual development, many improvements are added. Check the available functions and washing programs.
Automatic laundry weighing is effective for optimal adjustment of the drum movement and the amount of water. The AutoDose function sets the optimal amount of detergent for each wash cycle. The STEAM function with the use of steam during washing is effective in the fight against allergies. It destroys up to 99.9% of allergens. It also helps to reduce laundry wrinkles by up to 30%.
the top surface of the washing machine is also a storage shelf, the possibility to place the dryer on top of the washing machine, the possibility to monitor the progress of the washing cycle, a wide range of designs
the front door requires enough space to open it, when it is necessary to open the door, it is always necessary to drain the water
Narrow washing machines Slim Don't have room for a standard washing machine? Do you need to save on depth? Slim washing machines are usually only 40 cm deep .
Or do you have little laundry and do not use the capacity of the large drum efficiently?
The optimal laundry capacity for the Slim washing machine is approximately 4-6 kg . Naturally, even narrow washing machines are equipped with the Antioverflow function with protection against water leakage and protection against foaming.
Variants with a dryer function are also available.
smaller volume of laundry per cycle
Laundry bags
Bubble washing machines Bubble washers inject air into a solution of washing powder and water. The active foam of the EcoBubble function ensures perfect washing. The powder connects better with water and air. Wash more efficiently at low temperatures. The washing solution gets into the structure of the laundry much faster.
With a nozzle with a direct shower, the total length of washing is shortened. With the DrumClean function, you will always have a clean washing machine seal, drum and powder container.
efficient washing at low temperatures saves water and electricity shorter washing cycle gentle washing
Steam washing machines Steam washing machines wash clothes not only in water, but also in steam. Function Hygiene Steam releases steam from the bottom of the drum. The high temperature destroys up to 99.9% of bacteria. Steam softens textile fibers. The detergent penetrates much deeper into the fabric. Remove even the most stubborn stains.
Forgot to put in a piece of clothing? Add it additionally to the washing machine through the Add Wash door even after starting the washing cycle.
All smart functions will not only save you energy and water by 20% , but also save your time.
more efficient washing water consumption saving energy saving antibacterial effect of washing fast washing silent washing
Washing machines with dryers Don't have enough space for a free-standing washing machine and a free-standing tumble dryer? It doesn't matter. Combined washing machines with dryers are ideal for you.
If even that is not enough, the built-in washing machine with dryer in the kitchen cabinet will solve it.
For combined washing machines , expect two drying cycles. Combined washing machines have a lower drying capacity compared to the total volume of washed laundry per washing cycle.
For maximum energy and time savings, choose an intelligent washing machine with dryer .
space saving advantage 2in1
higher price after washing one batch, 2 drying cycles are required
Washing machines with dryers
Clothes dryers Do you need to reduce the humidity in your home? You don't have space in your home to dry wet laundry. Get rid of worries. Freestanding dryers are the solution for you. Choose the appropriate load capacity for your washing machine. Condensing dryers with a heat pump are energy efficient.
Take advantage of the opportunity to get a free-standing washing machine and dryer set . Place them next to each other or above each other. Enjoy stylish design sets with a rich set of functions and features.
anti-creasing system, drying level setting, drying modes, refreshing of laundry with ionized air
Washing machine sets
Intelligent Smart washing machines The integration of Smart technologies and Smart Home solutions did not bypass the washing process either. You too can manage and control your smart washing machine remotely via smartphone.
Intelligent technology Al Control continuously learns and remembers your washing habits. The i-DOS system evaluates the contents of the washing machine and suggests a suitable washing cycle.
Connect your mobile contactlessly with a smart washing machine. Smart Touch technology and NFC connectivity make it possible to use the application to view information about washing or to schedule washing. The smart washing machine and voice assistant will also help you solve problems.
the possibility of remote control with a smartphone provides consumption statistics suggests the most suitable washing mode automatic dosing of detergents self-cleaning
Built-in washing machines Are you missing a technical room in your home? Do you have a small bathroom? Then you will appreciate built- in washing machines for integration into the kitchen unit. A door protects them from prying eyes.
Choose built-in washing machines with dryers. You get a rich set of functions and features as with free-standing devices.
Top-loading washing machines Top -loading washers are narrow and save space in small rooms. In confined spaces, expect the door to open upwards. Their dimensions are not suitable for placement in kitchens.
Interrupt the washing process. Load the laundry without draining the water .
The disadvantage is the lack of a range of top-loading washing machines in combination with a dryer.
suitable for narrow spaces, convenient filling and removal of laundry
the top of the washing machine cannot serve as a shelf for storing less laundry, fewer functions compared to the top technologies of front-loading washing machines
Whirlpool washing machines Classic whirling washing machines are ideal for cottages and cottages. Wherever there is no access to a pressurized water supply. In the drum in which the laundry is washed, the laundry "swirls" . The linen is rotated by the movement of the propeller on the side of the tub. In combination with a spinner, you can easily wash a smaller volume of laundry.
no requirements for water supply, takes up a minimum of space, energy saving, simple operation
less gentle washing, more time-consuming washing
Mini washing machines Do you regularly run out of laundry ? Are you alone or a student? Do you move often?
Do you need to do laundry in the garden or at the campsite?
An easily portable compact mini washing machine with minimal space requirements is useful for you. Washing capacity 2 to 3 kg of laundry. Adjustable timer . There is a spin function.
small power, minimum functions, minimum storage space, convenient for traveling
Accessories for washing machines No washing is complete without high-quality detergents . Washing powder, washing gel, washing capsules or liquid powders are more suitable for you or your washing machine.
Add scented fabric softeners to the wash for a pleasant smell and a soft touch. Extend the color fastness of laundry.
Apply stain removers to stubborn stains.
Place dirty laundry in laundry baskets .
Store laundry supplies in the cabinets above the washing machine out of the reach of children.
they organize storage and facilitate washing
Washing machines
Washing machine cleaners