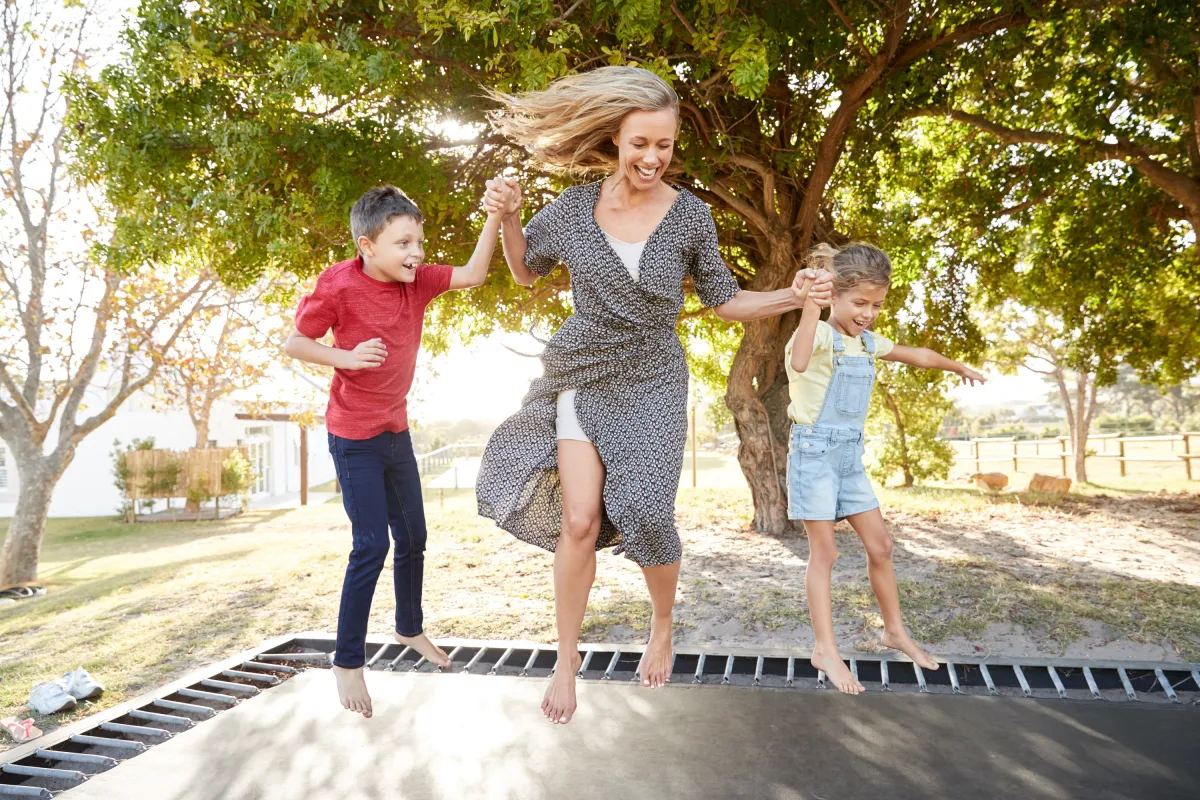 08.08.2022 | Editorial office
How to choose a trampoline?
The trampoline will perfectly test your physical condition, cardio system, and coordination. Forget prejudices and myths. Jumping actively entertains both children and adults. A trampoline is a sports tool for shaping the figure. As with any sport, safety is the most important thing when jumping on a trampoline. Never let children jump without supervision. Choose a trampoline for relaxation or fitness training.
choose outdoor, indoor or portable trampolines
depending on the size of the jumping surface and the weight of the load, they are intended for children, for adults, for couples, but also for several jumpers
the stability of the trampoline depends on the shape and number of legs
they can be equipped with a safety net, steps and boarding platforms
the quality of the trampoline is also defined by the number and length of the springs and their material
trampolines are classic spring or modern with springless systems
sports fitness trampolines can be equipped with a support handle
acrobatic trampolines have a large number of springs and a large jumping surface
the best quality trampolines have a non-slip surface and a surface against skin chafing
---
---
Outdoor garden trampolines Outdoor garden trampolines are trendy. Jumping in the fresh air relieves stress and improves fitness. It helps burn fat faster. Exercising on a trampoline puts a fair amount of stress on the joints. It is also suitable for overweight people. Outdoor trampolines are massive and stable, also suitable for grassy garden areas. Premium trampolines have U-shaped legs. Materials resistant to UV radiation and adverse weather extend their lifespan. Trampolines embedded in the ground are low and are best suited for safe fun.
strong and stable structure resistant to UV radiation and adverse weather jumping surface with high reflection and anti-slip treatment high-quality soft covering of springs against injuries possibility of accessories - for example, jump counter, basketball hoop, additional protective tent against adverse weather, lower protective net against children entering under the trampoline and quality mooring accessories
outdoor trampolines should be protected from pollution with a protective cover. outdoor trampolines should be covered after the season. garden trampolines are heavier, more difficult to transport. solid built-in trampolines are non-portable; they require a lot of space for placement; higher purchase price
Indoor trampolines Indoor trampolines are smaller and do not allow high jumps due to the indoor ceiling. They are more compact and portable. They are also suitable for a covered terrace, veranda, gazebo and apartment.
less height from the floor without steps ideal for daily entertainment and exercising the muscles of the whole body easily portable they can be folded on top of each other affordable
smaller diameter unsuitable for unsupervised children do not have a protective safety net
Trampoline fitness Fitness trampolines are designed for indoor and outdoor sports activities. Regular exercise strengthens the muscles around the spine and improves posture. Jumping is an ideal additional cardio exercise for other sports as well. Sports trampolines stand out for their stable and very durable construction. Premium fitness trampolines are equipped with modern springless technology with increased protection against injury. They can have an additional adjustable handle for support during exercise.
made of high-quality and lightweight materials intended for daily, intensive use, easy to store and portable
must be placed on a paved surface