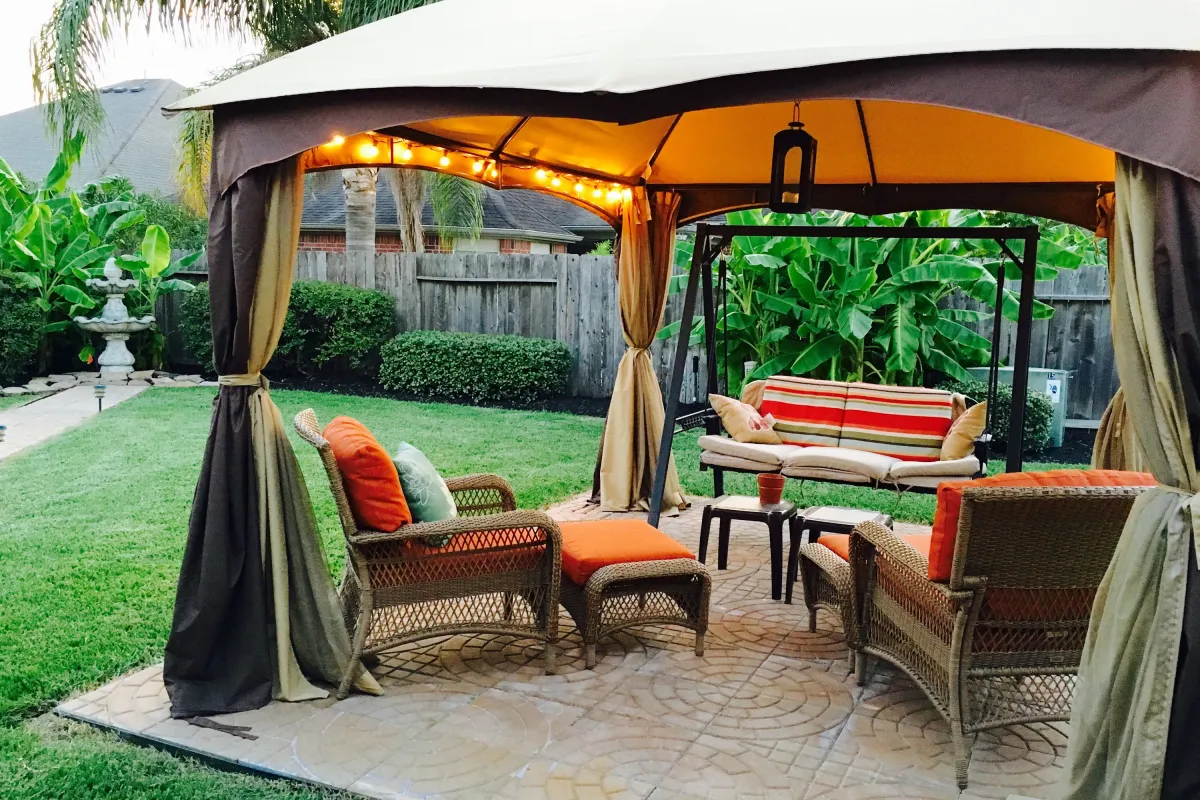 10.08.2022 | Editorial office
How to choose a gazebo?
Create an exceptional place in your garden with a touch of luxury. Cool off in the hot summer in the shade of the gazebo. For a large garden, choose an elegant solid wood gazebo. Complement the small garden with a folding canvas gazebo. Garden gazebos are suitable for every occasion:
sitting and resting
grilling
fun and games
various celebrations
wedding gazebos
hot tub cover
stylish canvas with original print
---
---
Wooden gazebos Wooden gazebos are the center of every garden. Choose a style and consider your needs. Choose traditional gazebos, modern or Japanese gazebos, airy or closed gazebos. Complement them with flowers, furniture, a hammock, or a deckchair. Don't limit yourself. A grill, jacuzzi, or home wellness will make your dream come true. Experience the feeling of luxury and comfort without restrictions.
solid wood is an ecological material stands out for its natural beauty robust, stable and safe construction in all weathers year-round use also available with side walls and floor various shapes available - square, rectangle, circle and polygon available in various sizes
wooden gazebos need regular care, maintenance and painting with protective coatings, wood is subject to weather effects, wooden gazebo is firmly anchored to the base, without the possibility of relocation, the building requires professional assembly, higher procurement costs
Gazebos
Metal tarpaulin gazebos Canvas gazebos are an aesthetic and practical addition to any garden. Gazebos with metal or aluminum construction stand out for their variety of shapes and styles. Do not limit yourself in their use. They will protect you from the sun's rays and UV radiation, catching insects, or the eyes of curious neighbors. They are light, compact and portable. They do not need a solid floor. They do not require professional assembly. Quality sheets repel water and dirt.
minimal maintenance requirements low weight simple assembly suitable even for smaller spaces possibility to quickly unfold and fold possibility to carry color diversity easy change of style and design suitable for birthday parties, picnics or weddings affordable
seasonal use, the need for a firm anchoring, lower resistance to adverse natural conditions, it cannot bear the load of a violent summer storm, strong wind or rain, the need for impregnation to extend the water resistance of the sail
Gazebos
Plastic gazebos Plastic gazebos are the cheapest alternative material. Simple, lightweight pavilions are almost maintenance-free and require only occasional cleaning. The disadvantage is the specific plastic appearance of the texture of the PVC material and the small color range. The supporting structure is often a combination of light metal and plastic.
suitable for camping, picnics and parties in the open air extremely easy to fold, suitable for storage in plastic garden boxes waterproof well protect against UV radiation simple disassembly without the need for tools
simple design, limited color selection, low wind resistance, lower overall lifetime of PVC materials, seasonal use
Gazebos