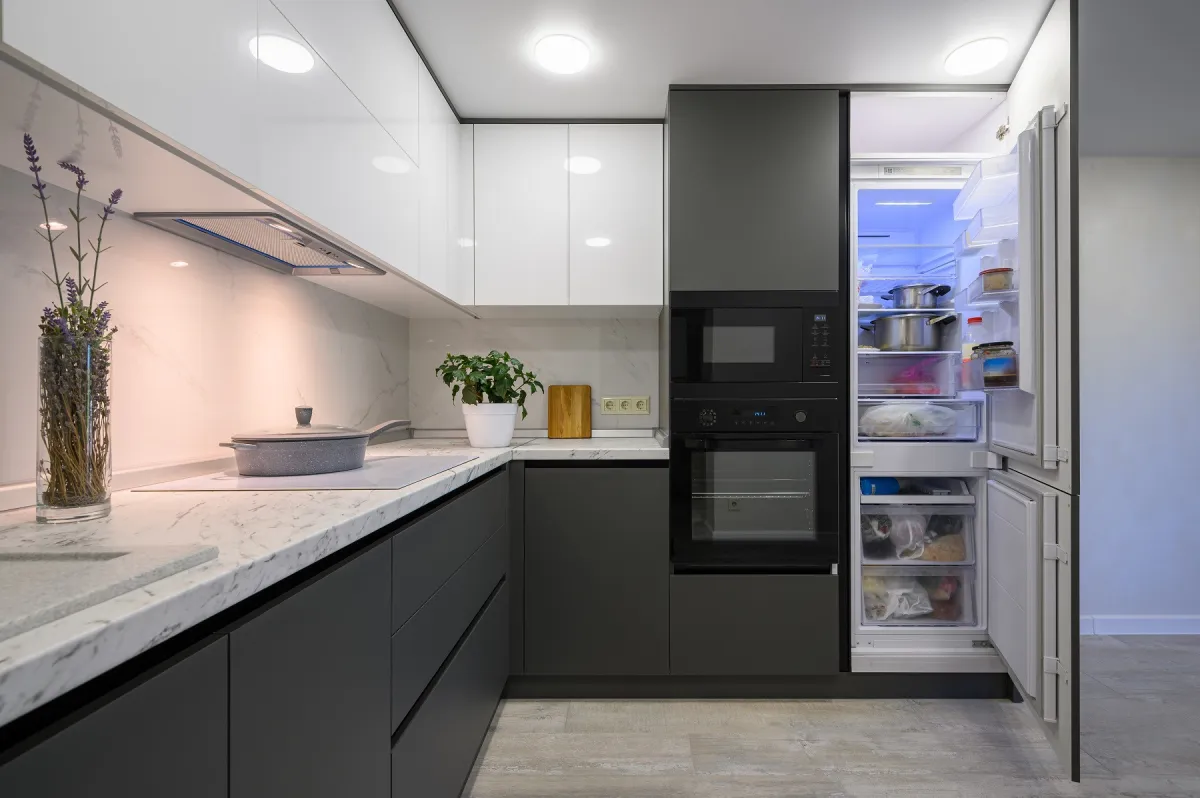 17.11.2022 | Editorial office
How to choose a freezer?
Do you cook for a large household? Do you regularly freeze seasonal fruit, vegetables, fish or meat? Choose a freezer tailored to your needs. Decide according to the spatial possibilities . Is a cabinet , chest , or built- in freezer more convenient for you?
Each switched-on freezer will significantly affect the consumption of electricity . The new energy label is identical to the label for refrigerators. Energy efficiency class A has the lowest electricity consumption in kWh/year. If you do not have a separate chamber for food, you will appreciate the information about noise emissions in dB. On the label you will also find information about the volume of usable embosser space in liters . For normal use, calculate approximately 30 l of volume per household member.
The dimensions and weight of freezers can also be important parameters of your choice.
Freezing capacity indicates the weight of food in kilograms that the freezer is able to freeze in 24 hours. The freezing class is indicated by one star (-6°C), two (-12°C), three (-18°C), or four (-24°C). For long-term preservation, deep freezing at -18°C is recommended.
Do you have power outages? Also be interested in the storage time of the freezer. The better the insulation properties, the longer the food stays frozen and you save energy. Extend the storage time and fill the empty space of the freezer with gel cooling fillings .
A practical function is the sound signaling of a sudden increase in the internal temperature when the door is ajar.
Choose a super-standard freezer equipped with an ice maker . Enjoy perfectly chilled drinks all summer long.
---
---
Cabinet freezers Freely standing cabinet freezers are also referred to as drawer freezers . They are typical with pull -out drawers . Have a perfect overview of the storage of frozen food.
The premium silver-based antibacterial surface helps protect the inside of the freezer from mold and bacteria.
In freezers with the NoFrost function, dew and frost are removed by air flow around the inner walls.
SuperFrost function, or also activate quick freezing after placing a larger volume of unfrozen food. After reaching the set temperature, this function is automatically switched off.
Watch the display to see the internal temperature and other functions of your smart freezer . Pre-set the freezing temperature. -18°C is considered the ideal temperature for preserving freshness.
suitable for smaller households, they occupy a smaller area of the drawer for clear food storage
unsuitable for freezing large packages unsuitable for storing large pieces of meat
Cooling pads
Ice molds
Chest freezers Chest freezers , or counter freezers , look like a large box with an upper opening.
Will you choose a white or black box? Are you preparing for the holidays? Do you need to store a whole goose or a large turkey? Do you make killers? Get a bigger chest freezer.
In addition to different widths and larger volumes, counter freezers are characterized by excellent insulating properties with a long storage time. After opening the top lid, cold air does not escape. It stays inside the freezer. You get lower energy consumption.
The disadvantage is storing food on top of each other in large baskets . After a while, you may lose track of where they are stored.
suitable for restaurants and larger households large storage space for large pieces of food different widths for different volumes lower energy consumption
poorer overview of food storage, poorer handling of the contents, need for more space for placement
Vacuum sealers for longer preservation of fresh food
Built-in freezers Built-in freezers are designed to be built into cabinets in kitchen units. By default, these are drawer freezers with the same features and functions as cabinet freezers . Cabinets for built-in freezers must ensure sufficient heat dissipation.
suitable for preserving the design and clean style of the kitchen
smaller selection higher price